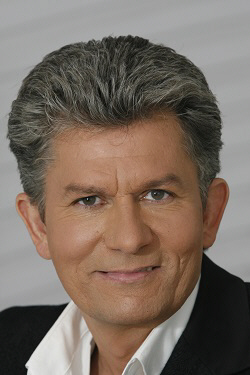 Biography:
German conductor Andreas Delfs is the conductor laureate of the Milwaukee Symphony Orchestra and principal conductor of the Honolulu Symphony. He has conducted the Philadelphia and the Minnesota Orchestras, the National Symphony and Los Angeles Philharmonic, as well as the the symphony orchestras of San Francisco, Atlanta, Cincinnati and Detroit. Outside the US he has led such ensembles as the London, Dresden, Amsterdam and Tokyo NHK Philharmonic, the Leipzig Gewandhaus Orchestra, Sydney Symphony and the radio orchestras of Berlin, Frankfurt and Copenhagen.
A distinguished opera conductor, he held positions in Stuttgart, Bern and Hannover and gave the European premiere of Corigliano's The Ghosts of Versailles, the Swiss premiere of Ligeti's Le Grand Macabre, and a highly praised debut at the New York City Opera of Bizet's Carmen. In Milwaukee he conducted memorable performances of Boris Godunov, Salome and Turandot.
Delfs was born in Flensburg, Germany. He began studying piano and music theory at age five. At 17 he joined the staff of the local opera company as conductor and composer, and by age twenty was named Music Director of the Hamburg University Orchestra. Delfs graduated from Hamburg Conservatory in 1981, and earned his master's at Juilliard School of Music in 1984. At Hamburg, Delfs studied under Aldo Ceccato and Christoph von Dohnanyi. After receiving his Master's, he accepted the post of Assistant Conductor of the Pittsburgh Symphony Orchestra, then under the music directorship of Lorin Maazel. From 1984 to 1995 he also held the position of chief conductor of the Swiss Youth Symphony Orchestra (SYSO).
Delfs was appointed Music Director and conductor of the Milwaukee Symphony Orchestra in 1996. In 1999, he led the Orchestra on a tour of Cuba, the first by an American orchestra in more than 37 years. He held the position of Music Director until the 2008-2009 season (the Orchestra's fiftieth season), thereafter becoming its Conductor Laureate.
Delfs held the post of Music Director of the St. Paul Chamber Orchestra from 2001-2004, and the position of General Music Director of Hannover from 1996-2000. In March 2007, Delfs was named Principal Conductor of the Honolulu Symphony.