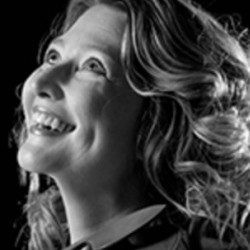 Artist:
Annette-Barbara Vogel | violin
Biography:
Annette-Barbara Vogel is considered one of the finest violinists of her generation and known for her "formidable technique, stunning musicality and stage presence, that transmits to orchestra and audience alike" (Wuppertaler Zeitung; Brahms Concerto).
Vogel, at age four, had her first violin lessons, at eleven was accepted as the youngest student ever to attend the Folkwang-Hochschule Essen, and a year later had her concerto debut on the stage of "Tonhalle Düsseldorf". She passed both her soloist diploma and her chamber music studies with "Highest Honors". Vogel earned a further artist diploma at the College-Conservatory of Music in Cincinnati. Among her most influential teachers are Walter Levin, Herman Krebbers, Henry Meyer, Pieter Daniel and Dorothy Delay.
She has been supported by numerous cultural foundations such as the DAAD, the "Studienstiftung des deutschen Volkes", the Ponto-Foundation and the "Kunststiftung Nordrhein-Westfalen" which at the beginning of her career provided her with a Violin by Lorenzo Storioni.
In 1994 she became 'Artist-in-Residence' at the University of Virginia/Charlottesville and from 1995 to 1998 she taught at the Folkwang-Hochschule in Essen. This position was followed by professorships at the University of Iowa, Iowa City – where she was founder and artistic director of MAGISTERRA! International Chamber Music Festival and Academy, Iowa and at the University of Western Ontario/Canada.
Vogel's yearly performance schedules take her to major concert halls worldwide in conjunction with teaching master classes in Europe, America and Asia. She can be heard in programs of esteemed international festivals such as Aspen, Gstaad, Graz, Seoul, Schleswig-Holstein, Kuhmo and Nova Scotia.
Annette-Barbara Vogel has shared concert stages with fine artists such as Christian Altenburger, Lars Vogt, Dmitri Sitkovetsky, Sandra Rivers, Maria Kliegel, Vladimir Mendelssohn, Elsbeth Moser, Peter Zazofsky and Juhani Lagerspetz. On the same level she worked with Piere Amoyal, Ralf Gothoni, Bernhard Greenhouse, Arthur Grumiaux, Lord Yehudi Menuhin, Viktor Pikaisen and the Tokyo String Quartet. She has made many CD, Radio and TV productions.
The international press has applauded her technical mastery and precision. However it is her devotion to new challenges which has been particularly and warmly noticed. She surprises her audiences with unlikely performances such as playing all of the Beethoven sonatas for violin and piano in a single day. Her many premieres of works by composers such as Erin Gee, Emily Doolittle, Chia Patino, Piotr Radko and Amelia Kaplan show her ongoing commitment to contemporary music. Vogel is a leader when it comes to performing unusual violin repertoire, and she is an avid supporter of literature by women composers. To that end, Vogel will soon release a CD of violin/piano music by French women composers and with the release of this CD has completed recording the complete violin works of Hans Gál for Avie Records.