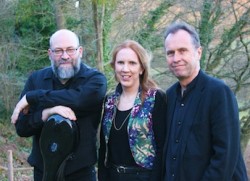 Artist:
Briggs Piano Trio | chamber ensemble
Biography:
United by a commitment to continuing to raise the profile of the Austrian-British composer Hans Gál, the members of the Briggs Piano Trio were brought together by AVIE Records to make the recording which contrasts Gál's poetic E major Trio with Shostakovich's dark E minor Trio.
Pianist Sarah Beth Briggs, violinist David Juritz and cellist Kenneth Woods have previously collaborated in various contexts since the 1990s. While Sarah and David were originally brought together through Mozart, in recent years, the Hans Gál connection was what partnered Sarah with Kenneth, when he conducted the world premiere of Hans Gál's Piano Concerto with Sarah as soloist for an AVIE recording which was awarded a Gramophone Critic's Choice.
The three musicians enjoy exploring hidden gems as well as returning to great chamber works for the piano trio of the past. The Briggs Piano Trio share a special affinity for the piano trios of the leading composers of the great Austro-German tradition from Haydn, Beethoven and Schubert through Brahms and Zemlinsky to Hans Gál, perhaps the last great figure in that line.