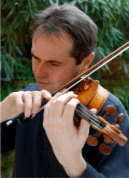 Biography:
David Juritz was born in Cape Town, South Africa and, after winning a scholarship, came to London to study at the Royal College of Music (RCM) with Hugh Bean and Jaroslav Vanecek. During his time at the RCM he won all the major prizes for violin including the College's highest award, the Tagore Gold Medal.
On leaving the RCM he joined the English Chamber Orchestra before being appointed leader of the London Mozart Players (LMP), a position he held from 1991 to 2010. He made many solo appearances with the LMP, including his debut at the 2006 BBC Promenade Concerts.
He has appeared as soloist and/or director with many orchestras around the world. His recording of the Vivaldi Four Seasons with the LMP was hailed by critics as one of the finest interpretations of the work. David's recording of Bach's Sonatas and Partitas for Violin Solo and of music by the Polish composer Gracina Bacewicz have also been warmly received.
He has played with many chamber groups including the Razumovsky Ensemble and the LMP Chamber Ensemble. He made acclaimed recordings of Schubert (live at the Wigmore Hall) and Symanowski Quartets with the Maggini Quartet and has recorded, broadcast, and performed internationally with many other ensembles.
In 2005 he took on the role of artistic director of the Burton Bradstock Festival in Dorset presenting a series of folk, jazz and classical concerts in August each year.
David plays on a violin made by J.B. Guadagnini in Piacenza in 1748.