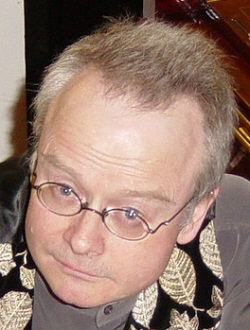 Biography:
David Owen Norris's work is unusually varied. To pick a few highlights from the autumn of 2006, he records Richard Arnell's Piano Concerto and Joseph Horowitz's Jazz Concerto. His new oratorio Prayerbook was sung by the Oxford Bach Choir, conducted by Nicholas Cleobury, in Dorchester Abbey. He accompanies Philip Langridge (with whom he recorded Winterreise on fortepiano) in Britten song-cycles in Frankfurt. He was invited to the Annual Conference of the American Musicological Society in Los Angeles to play Elgar. With Amanda Pitt he initiates a new strand of programming, Songs & Pictures, opening in Nottingham and moving on to the National Gallery in Washington DC. He is making two radio programmes on Art in the Church.
Norris is a founder-member of the new group THE WORKS, who started the 7 Locks Festival in September 2006. Schools' workshops are an important feature – 500 children played a Square Piano of 1781, and 200 more were mesmerised by the Viennese violinist Ernst Kovacic. Norris broadcast the modern premiere of the newly-discovered arrangement by Cramer of Mozart's C major Piano Concerto, opening up an entirely new area of Mozart scholarship. His John Donne song-cycle Tomorrow nor Yesterday was premiered by Mark Wilde. The Festival marked the centenary of Jaroslav Jezek, whose jazzy Piano Concerto Norris performed and broadcast in Prague and Luxembourg just a year ago. The Festival included Norris's sequence of comic operas, 2 Murders & a Marriage , which THE WORKS toured widely this summer, including the Buxton International Opera Festival, where it sold out weeks in advance, and the Oslo Festival.
Earlier in 2006 Norris toured The World's First Piano Concertos (a Square Piano repertoire he discovered while an Arts & Humanities Research Council Fellow) with Monica Huggett and Sonnerie, from Gateshead to Dartington and over to America, where American Record Review wrote: "The extroverted and energetic Norris, winner of the first Gilmore Artist Award, is a deservedly popular draw. First-rate … full of witty intelligence and charm."
Norris will be recording CDs of Elgar piano music, Elgar songs with Amanda Pitt and Mark Wilde, English viola music with Paul Silverthorne, and Walter Scott songs with Wilde. 2007, Elgar's Sesquicentenary, sees many Elgar recitals, including a Birthday Bash at the Royal Academy of Music on June 2nd.
David Owen Norris is an Honorary Fellow of Keble College, Oxford, and an Educational Fellow of the Worshipful Company of Musicians.
He was Organ Scholar of Keble College, and left Oxford with a First and a Composition Scholarship to study in London and Paris. He was Repetiteur at the Royal Opera House, Harpist at the Royal Shakespeare Company, Artistic Director of Festivals in Cardiff and Petworth, Chairman of the Steans Institute for Singers in Chicago, and the Gresham Professor of Music in London. He is frequently heard as a radio broadcaster; his many series have included The Works, But I know what I like and All the Rage, and he presented the drive-time show In Tune for several years. First and foremost he is a pianist, beginning as an accompanist to such artists as Dame Janet Baker, Jean-Pierre Rampal, Larry Adler and Ernst Kovacic. In 1991, after a worldwide search, the Gilmore International Keyboard Festival appointed him the first Gilmore Artist, a quadrennial award. His subsequent international solo career has included concertos with the Chicago and Detroit Symphony Orchestras and the Handel & Haydn Society in Boston (amongst many other North American orchestras) the Philharmonia, the Academy of Ancient Music, and several of the BBC's orchestras, including three appearances at the Proms; and solo recitals all over North America and Australia, and in every European country from Hungary westward.