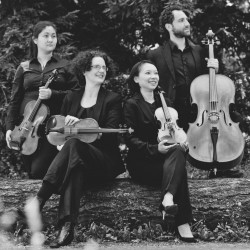 Biography:
Hailed as Oregon's 'finest chamber ensemble' by Oregon ArtsWatch, the Delgani String Quartet has established itself as a prominent voice in chamber music in the Pacific Northwest. Since their formation in 2014, Delgani has curated a concert season known for its wide-ranging and adventurous programming. Dedicated to promoting contemporary music, the quartet has forged close collaborations with composers Clarice Assad, Reza Vali, and Elena Ruehr. Their 2022 recording of Ruehr's String Quartet No.7 was praised by Gramophone as 'captivating.' The Delgani String Quartet has been an artist-in-residence at the Oregon Bach Festival and University of Oregon's Composers Forum.
Educational programming holds a central place in Delgani's mission. Their program 'Classical Spark' brings the quartet into elementary school classrooms to foster an early interest in music. They hold an annual string quartet camp for teenagers and ongoing chamber music workshops for adults. Delgani operates as a 501(c)(3) nonprofit and has received foundation support from the Oregon Cultural Trust, Oregon Community Foundation, Oregon Arts Commission, Lane Arts Council, Springfield Arts Commission, and Springfield Education Foundation. Delgani is the recipient of consecutive Cultural Development Grants from OCT and consecutive Creative Heights Grant from OCF.
The musicians of the Delgani String Quartet are violinists Anthea Kreston and Jannie Wei, violist Kimberlee Uwate, and cellist Eric Alterman.