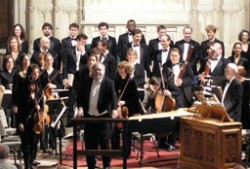 Artist:
The Orchestra of Emmanuel Music
Biography:
Emmanuel Music was founded in 1970 by Craig Smith to perform the complete cycle of over 200 sacred cantatas of J.S. Bach in the liturgical setting for which they were intended, an endeavor twice completed and a tradition which continues today. Over the years, Emmanuel Music has garnered critical and popular acclaim through its presentations of large-scale and operatic works by Bach, Handel, Schubert, and Mozart, as well as its in-depth exploration of the chamber music of composers including Schumann, Debussy, Brahms, and Schubert.
Emmanuel Music has nurtured a group of vocal and instrumental musicians who have performed together over many years. Many of these musicians perform as soloists in the cantatas and concerts of large-scale and chamber works; a good number have become renowned at the local, national, and international level. Emmanuel Music has also performed for many years in ground-breaking collaborations with leading visionaries among the other arts, including choreographer Mark Morris and stage director Peter Sellars, whose works have become a hallmark of Emmanuel's innovative programming.
After the death of founder Craig Smith in 2007, Pulitzer Prize-winning composer John Harbison took over as Acting Artistic Director, collaborating with Associate Conductor Michael Beattie. Both musicians have been involved with Emmanuel Music for many years