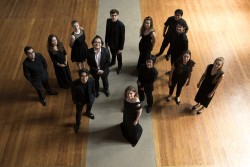 Artist:
Eurasian Soloists Chamber Orchestra
Biography:
The Eurasian Soloists Chamber Orchestra, created in May 2015 by violinists Sherniyaz Mussakhan (Kazakhstan) and Jana Ozolina (Latvia), consists of young artists, competition winners and soloists already well established on the international classical scene. These musicians, hailing from some ten different Eurasian countries, came together in Switzerland to share their various cultures and schools of performance, believing strongly in the principle that for the most beautiful language in the world – music – there are no borders.
The Orchestra performs throughout Switzerland and is a permanent fixture on the programmes of such festivals as the Gstaad New Year Music Festival led by Her Highness Caroline Murat, the Sion Music Festival (Valais) and the Stars at the Rhine Festival (Basel) and on concert series in Vienna and Bregenz.
The Eurasian Soloists Chamber Orchestra has performed with Pavel Vernikov, Ray Chen, Francesco de Angelis, Igudesman & Joo, Christoph Croisé and many others. The group is led by award-winning violinist Sherniyaz Mussakhan.