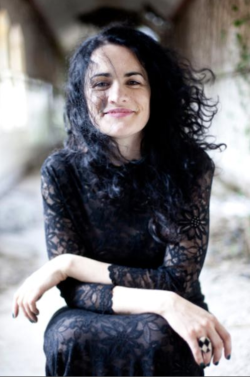 Biography:
Award winning composer Irene Buckley is active across many music disciplines including choral, opera, orchestral, dance, theatre, film and electronics.
She has received commissions from Union Chapel, London, the Cork French Film Festival, and the Dutch National Youth Orchestra, the latter as a result of winning the 14th International Young Composers' Meeting in the Netherlands. Through the different disciplines in which she composes, Irene's music has been performed by many prestigious ensembles including the BBC Singers and the RTÉ National Symphony Orchestra. Her orchestral work Stórr was shortlisted for the 8th International Competition of Musical Personalities Composers' Competition in Poland and her film score for 'The Swing was nominated for Best Original Music at the Festival International du Film d'Aubagne, France.
In recent years she has focused on composing live scores for silent movies. These include Dreyer's The Passion of Joan of Arc, Epstein's The Fall of the House of Usher and Murnau's Nosferatu (co-composed with Linda Buckley). These have had performances in venues such as Glasgow Cathedral for Glasgow Film Festival, Union Chapel London for Organ Reframed Festival, St. Fin Barre's Cathedral for Cork Film Festival and Brookfield Place, NYC for SilentFilms/LiveMusic Series.
Irene is a member of Crevice, alongside musicians Elaine Howley and Roslyn Steer and released their debut album In Heart on the label Fort Evil Fruit in 2017.
Her choral pieces are published by Cailino Music Publishers.
She is currently a composition tutor with the 'Composers in the Classroom' schemes run by Cork International Choral Festival and Chamber Choir Ireland.
Irene holds a PhD in Composition and a BMus from University College Cork and an MA in Music Technology from Queens University Belfast. She attended Composition courses in the USA, Latvia and the Netherlands, alongside Film Scoring courses under Screen Training Ireland.