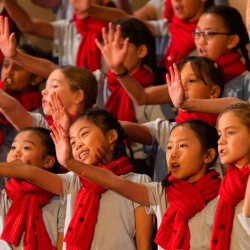 Biography:
Founded in 2013 by Jennah Delp Somers and Shane Troll, iSing Silicon Valley brings together more than 300 singers in Silicon Valley, offers them rigorous training, and guides them toward the highest level of artistry. Celebrated for the gorgeous vocal blend and joyous singing of its choruses, iSing has built a deeply committed musical community in the Bay Area and around the world.
iSing's awards include the Chorus America Dale Warland Singers Commission Award and the Grand Prize at the 8th International Robert Schumann Choral Competition. Dedicated to strengthening connection through collaboration and to the commissioning of new works for treble voices, iSing has also achieved recognition on the national and global stage through performances with world-class artists including Joyce DiDonato, Angel Blue, Barbara Bonney, Estelí Gomez, Meredith Monk & Vocal Ensemble, Voces8, St. Lawrence String Quartet, Cheryl Ann Fulton, and members of the SF Symphony and One Found Sound.
iSing can be heard on Here I Stand (Innova Recordings, 2020); Pulitzer Prize-winning composer Caroline Shaw's anthem to empowerment, So Quietly (Innova Recordings, 2021); Daniel Wohl's electro-acoustic ode to breath and air, Drift (New Amsterdam Records, 2022); and on this recording, love & light.