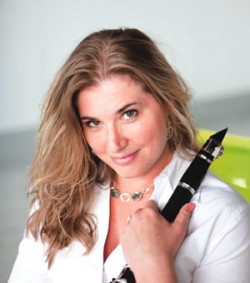 Biography:
Jean Johnson's playing has been described as having 'ineffable beauty' and 'sense of freedom and flair', 'bounding with energy', and 'reaching outer transcendental limits'. Jean Johnson is a busy collaborator in chamber music programmes and has performed as such in some of the world's finest venues, notably the Concertgebouw, Carnegie Hall, the Palais des Beaux-Arts, and the Esplanade in Singapore. Ms Johnson performs regularly in a duo with her husband, pianist Steven Osborne, and as a recitalist plays around the UK, America and further afield. Jean Johnson is also a member of the critically acclaimed chamber music ensemble, Daniel's Beard, based in Glasgow. Notable chamber music festivals include Spannungen, BOZAR, Schwetzingen, Prussia Cove, Huddersfield Contemporary Music Festival,
St Magnus Festival, West End Festival in Glasgow. Ms Johnson has collaborated with many groups including Hebrides Ensemble, T'ang Quartet, TrioSono and Barony Ensemble. As a soloist, she has been featured with the Singapore Symphony Orchestra, Wuhan Symphony Orchestra (China), and in Scotland she has played concertos by John McLeod and Steve King.
Jean Johnson was a student of Michael Sussman at the University of Massachusetts. She attended Indiana University as an Associate Instructor in Clarinet, studying with Eli Eban and Alfred Prinz.
Ms Johnson began her career with the Singapore Symphony Orchestra both as Associate Principal and Acting Principal Clarinet. Now living in the UK, she performs regularly with major British orchestras and is in demand as a guest principal.
Upcoming Concerts:
Jean Johnson has no upcoming tour dates. Please check back soon.