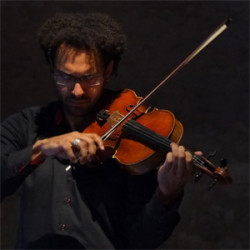 Artist:
Juan-Miguel Hernandez | violin
Biography:
An artist defined by the critics as '… tender, lyrical, loaded with personality' (Atlanta Journal Constitution), violist Juan-Miguel Hernandez is also recognized for drawing '… the sweetest, most sonorous tone' (Washington Post). In September 2009, Juan-Miguel won the first Prize at the 16th International Johannes Brahms Competition in Austria, adding to other top prizes won at the National Canadian Music Competition, and the 9th National Sphinx Competition in 2006. As a featured guest soloist, Juan-Miguel has appeared with the Atlanta, Seattle, Colorado Symphonies, the Rochester Philharmonic and the Chicago Sinfonietta. In 2010, he was recognized with the medal of honour from the National Assembly of Quebec for his significant international accomplishments.
A dedicated chamber musician, Juan-Miguel was a member of the legendary Fine Arts Quartet (2013–2018) and original member of the Harlem Quartet (2006–2012), as well as a founder of the Boreal Trio (2012–2018) and current member of Trio Virado (Flute, Viola, Guitar), both specialised in the creation of new repertoire. His musicianship has led to a wide array of collaborations with artists such as Itzhak Perlman, Lynn Harrell, Kim Kashkashian and Gerard Caussé as well as Chick Corea, Gary Burton and Stanley Clark.
Born in Montreal, Canada in 1985, Juan-Miguel began studying the violin at age seven, then switched to viola at age 12 and graduated from the Colburn Conservatory and New England Conservatory. Education being a prominent part of his career, Juan-Miguel joined the faculty of the Royal Academy of Music in London as Professor of Viola from 2016 to 2020, where he now remains as visiting Professor since his move back to his native Montreal. In September 2021, he joined the faculty of music at Université de Montréal as invited Professor of Viola.
He plays on a beautiful 2008 Miralles viola from Altadena, California.