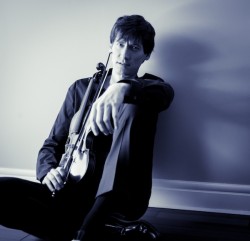 Biography:
Karl Stobbe is recognized as one of Canada's most accomplished and diverse violinists. Very few violinists can lay claim to performances of all six Ysaÿe Sonatas for Solo Violin, all sixteen Beethoven String Quartets, and all nine Mahler Symphonies. Whether as a concertmaster, soloist, chamber musician, or teacher, Karl is known for his dedication to excellence on the violin and classical music in all its forms. He is described as an artist with 'soulful musicianship' (San Francisco Classical Voice), and his concerts have been called 'a clinic in the art of violin playing' (Winnipeg Free Press). Devoted to the music of our time, Karl frequently performs and records new music, and has been involved in many commissions and world premieres. He has performed in many of North America's most famous concert halls, including Carnegie Hall, Jordan Hall, the National Arts Centre, Roy Thompson Hall, Segerstrom Hall, and the Chan Centre. As a chamber musician and soloist, Karl has shared the stage with many of the most important and diverse violinists of our day, from James Ehnes to Mark O'Connor.
A lover of all things violin, Karl completed a minor in Violin Repair and Construction at Indiana University. Karl's passion for the construction and mechanics of the violin contributes to his ability as a performer and teacher. Through building and restoring violins, he continues to learn about and appreciate the work of the master luthiers. A connoisseur of string instruments, Karl never misses an opportunity to see and play fine violins and bows. He has given multiple lectures on the history of the violin family, and organized showings and lecture recitals of rare, fine instruments, in concert halls, art galleries, universities, and conservatories.
Upcoming Concerts:
Karl Stobbe has no upcoming tour dates. Please check back soon.