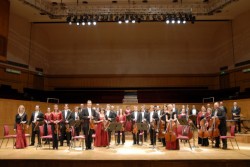 Biography:
Founded by Harry Blech in 1949 as the UK's first chamber orchestra, the London Mozart Players (LMP) is regarded as one of the finest ensembles, bringing together outstanding musicians from the UK and abroad to perform music of the highest quality. Internationally renowned for its live performances and CD recordings and particularly known for its definitive performances of the core Classical repertoire, it also plays an active part in contemporary music, giving many world premières and commissioning new works, especially of British composers. It has premièred new works by composers including Michael Nyman, Cecilia McDowell, Fraser Trainer and Lynne Plowman.
The LMP has performed with many distinguished conductors, including Sir John Barbirolli, Sir Mark Elder, Sir John Eliot Gardiner, Sir Charles Mackerras, Sir Roger Norrington and Sir Georg Solti. Former Music Directors of the LMP include Andrew Parrott, an acknowledged expert in the field of early music, Matthias Bamert, Jane Glover and Harry Blech himself. David Juritz has been Leader of the LMP since 1991.
Supported by Croydon Council, the LMP has been Resident Orchestra of Fairfield and the London Borough of Croydon since 1989, performing a series of concerts at Fairfield and undertaking many education and community activities throughout the borough. The LMP has regularly performed at the South Bank Centre and the Barbican and has current relationships with Cadogan Hall and St John's, Smith Square.
Touring is a major part of the orchestra's schedule, appearing in festivals and concert series throughout the UK and abroad. It is Orchestra in Association of The Anvil, Basingstoke, Turner Sims Concert Hall, Southampton, and Portsmouth Grammar School. Overseas, the LMP has recently visited Germany, Spain, Belgium, the Netherlands and Ireland.
The 2008/9 season was a celebratory one for the LMP. It saw the orchestra's 60th anniversary, which was marked by special concerts in Wigmore Hall, London and Fairfield Hall, Croydon. The LMP has developed an extensive and highly regarded education, community and audience development programme. The LMP is committed to developing new audiences in outer London boroughs and more rural locations nationally. With this aim, the orchestra has a strong relationship with East Lindsey District Council, Lincolnshire, where it is building on six years of residency, in which time it has generated a huge following for live classical music in the area and has seen a work written by Lynne Plowman especially for the residency be performed and recorded for CD. This success has led to a further residency being developed this year with South Holland District Council, Lincolnshire, which aims to reach into the heart of the fenland communities. It has recently developed associations with Royal Holloway University of London and The Yehudi Menuhin School in Surrey, working with students in masterclasses and education work, to add to the established relationships with Portsmouth Grammar School, Wimbledon College and Whitgift School,Croydon. In 2007 the LMP was nominated for an RPS Award for its 'Orchestra in a Village' project in Swavesey, Cambridgeshire.
The LMP is funded by Croydon Council and receives project funding from Orchestras Live, East Lindsey District Council and Kingston Borough Council. In addition, the LMP receives grants from trusts, foundations and many individuals, particularly the Friends of the LMP in Croydon.
Recording has played a major part in the orchestra's life for many years. Past projects include piano concerti by Hummel and Mozart with Howard Shelley for Chandos and Mozart symphonies for ASV with Jane Glover. Currently the LMP is recording its acclaimed Contemporaries of Mozart series with Matthias Bamert for Chandos, numbering over 20 CDs to date. Recent releases from Chandos include symphonies by Leopold Mozart and John Marsh as well as ballet music by Hummel. The LMP and Portsmouth Grammar School recently released A Song More Silent for Avie Records, with four commissions by British contemporary composers for Remembrance Sunday.
Upcoming Concerts:
London Mozart Players has no upcoming tour dates. Please check back soon.