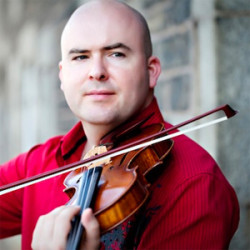 Biography:
Violinist Mark Fewer leads a multi-disciplined life in music. Violin soloist, chamber musician, orchestral leader, artistic director, conductor, arranger, teacher, jazz violinist, recording artist and occasional radio host, he has performed worldwide to great critical acclaim. He has held the positions of Concertmaster of the Vancouver Symphony, William Dawson Scholar at McGill University, Artist-in-Residence at Stanford University, and has been a member of the Duke Piano Trio, the St. Lawrence and Supernova String Quartets, and the Smithsonian Chamber Players in Washington DC, who perform and record on a collection of famed Stradivari instruments.
Currently Associate Professor of Violin at the Faculty of Music, University of Toronto, he also co-directs the school's Contemporary Improvisation Ensemble. His solo appearances with orchestras in Australia, the U.S., Canada and Italy have been described as 'intrepid' (Globe and Mail), 'freaky good' (The Gazette), and 'genre-bending' (National Post). His discography includes complete collections of works by J.S. Bach, Antonio Vivaldi, Giovanni Pandolfi, Johannes Brahms, George Antheil and others. As a teacher he has given classes worldwide, with his students occupying positions in orchestras and chamber ensembles throughout North America and Europe as well as directing their own music festivals in the communities they serve.
After 16 years as founding artistic director of the SweetWater Music Festival in Owen Sound, Ontario, Mr. Fewer is now director of Stratford Summer Music. He is a Juno and Prix Opus winner and is the subject of an episode of the Biography Channel's People Uncut.