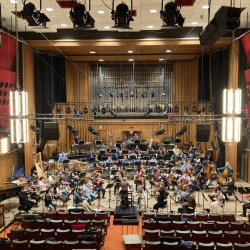 Artist:
ORF Vienna Radio Symphony Orchestra | orchestra
Biography:
The ORF Vienna Radio Symphony Orchestra is a top orchestra of world renown; it defines itself in the Vienna orchestral tradition and is known for its exceptional, bold programming. Marin Alsop succeeded as Chief Conductor in September 2019.
The Vienna RSO regularly performs in two subscription series in Vienna, in the Musikverein and the Konzerthaus. In addition, it appears every year at major Austrian and international festivals. Tours to European countries and overseas are a regular part of the Vienna RSO schedule as well. Since 2007, the Vienna RSO has successfully collaborated with the Theater an der Wien, thereby gaining an excellent reputation as an opera orchestra. Yet the Vienna RSO is also entirely at home in the film music genre.
Most of the Vienna RSO performances are broadcast on the radio, particularly on the Österreich 1 station, but also internationally. Among the guests at the conductor's podium were and are internationally celebrated conductors and composers. International soloists regularly perform with the Vienna RSO.
The broad scope of the Vienna RSO's recording activities includes works in every genre, among them many first recordings by early to mid-20th century and contemporary Austrian composers. Three CDs of the Vienna RSO received an Opus Klassik award.
The Vienna RSO has also launched a broad-based educational programme. In addition, highly talented musicians have been admitted to the orchestra's own academy since 1997.