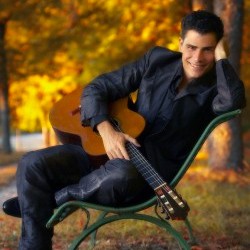 Biography:
Pablo Villegas has been hailed by the critics as one of the great guitarists of our time. His highly successful career has seen him garner numerous accolades and awards, and has so far taken him to over 30 countries, in which he has performed at such prestigious venues as the Philharmonie in Berlin, New York's Carnegie Hall, the Sala Verdi in Milan and the Vienna Musikverein.
His debut performances of the Concierto de Aranjuez with the New York Philharmonic in Avery Fisher Hall at Lincoln Center and with the San Francisco Symphony at Davies Symphony Hall brought him instant recognition as one of today's leading concerto soloists. His busy schedule since then has included a 12-concert tour with the Israel Philharmonic under the baton of Rafael Frühbeck de Burgos, and a debut appearance with the Houston Symphony conducted by Alondra de la Parra, with whom he went on to record Ponce's Concierto del Sur for Sony Classical.
Pablo Villegas has performed in the presence of the Dalai Lama, and gave the world premiere of Rounds, the first guitar work to have been written by five-time Oscar-winner John Williams.
He is the recipient of many international prizes, including the Andrés Segovia Award and gold medals at the Francisco Tárrega and Christopher Parkening Guitar Competitions. He has also been awarded Radio Nacional de España's 'Critical Eye' prize in the classical music category, the first guitarist to be honoured in this way.
An artist with a social conscience, Pablo Villegas is the founder of the 'Music without Frontiers Legacy', a philanthropic programme whose mission is to bring classical music to underprivileged children and young people as a means of helping their personal and emotional development.
Pablo Villegas was born in La Rioja, Spain, in 1977 and is currently based in New York.
Upcoming Concerts:
Pablo Villegas | classical guitar has no upcoming tour dates. Please check back soon.