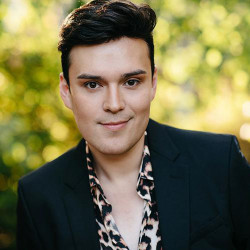 Biography:
Dubbed "The Rockstar of the Flute" by the Informador de Guadalajara (Mexico), and winner of Silicon Valley's X-Factor Arts, Artist Laureate, and Creative Ambassador Prizes, Mexican-Japanese American flutist Ray Furuta has performed worldwide as a commanding and versatile performing artist within the classical, contemporary, world, jazz, and pop sectors.
Named a cultural ambassador to the United States of America in 2014, Furuta has toured as a performer and teacher worldwide and has performed for internationally recognized names including Yo-Yo Ma's Silkroad Ensemble, the Lincoln Center and Miami Chamber Music Societies, Gabriela Lena Frank's Creative Academy of Music, The Juilliard School, The United Nations, and the Mainly Mozart, Okayama, Sarasota, and Yellowbarn Music Festivals. He has also shared the stage with classical luminaries including Jon Nakamatsu, Peter Frankl, and members of the Avalon, Brooklyn Rider, Kronos, Mendelssohn, and Emerson String Quartets.
Additionally, his passion for world music has led to performances with superstars Vân-Ánh Võ (Vietnamese zither đàn tranh), Sandeep Das (Indian tabla), Vijay Gopal (bansuri), Merima Ključo (accordion), Ghassan Sahhab (qanun), and Cristina Pato (Galician bagpipe) to name only a few. Under
his social justice initiative Más Amor Arts, his ongoing projects include a presence in local juvenile detention centers and collaborative projects with homeless women of color to address injustices of gender, race, finances, healthcare, and homelessness. In addition, he has established an annual project in the disenfranchised districts of Tijuana, Mexico to bring music education to youth in an effort to keep them off the streets. He has also performed for Syrian and Palestinian Refugees in the Middle East. Ray Furuta holds a doctor of musical arts degree from Stony Brook University where he was a direct pupil of Carol Wincenc and the Emerson String Quartet. Other important influences include flutists Isabelle Chapuis, Jill Felber, and Elena Yarritu, harpsichordist Arthur Haas, and pianist and artistic visionary Wu Han.
Upcoming Concerts:
Ray Furuta | flute has no upcoming tour dates. Please check back soon.