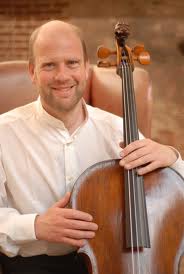 Biography:
Richard Tunnicliffe was born in Hull, England. He won a Foundation Scholarship to The Royal College of Music, London, where he studied the cello with Joan Dickson and Christopher Bunting.
He developed a love of early music by playing seventeenth-century English viol consort music under the guidance of Francis Baines, and subsequently took up the Baroque cello which he taught himself to play.
Since leaving college Richard Tunnicliffe has built up a varied career playing a wide range of music in performances both `modern' and `historical'. He has worked as a freelance player with virtually all the major period-instrument orchestras in London: English Baroque Soloists, The Academy of Ancient Music, The English Concert, The Taverner Players and The London Classical Players. He has played repertoire ranging from Schütz to Wagner in Europe, America, Australia, Hong Kong and Japan, and appeared on many commercial recordings.
He has also been closely associated with The Orchestra of the Age of Enlightenment since its formation, playing principal cello on many occasions. He has also played in mainstream London orchestras and has given concerts with the Brodsky String Quartet. He is also a member of Convivium with violinist Elizabeth Wallfisch and harpsichordist Paul Nicholson.
He also teaches Baroque cello at The Royal College of Music Richard Tunnicliffe is married to the flautist Liza Beznosiuk. Since 1988 he has been exploring the Classical string quartet repertoire as a member of the Reformed Fitzwilliam String Quartet.