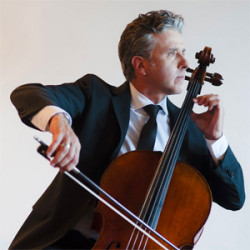 Biography:
For more than two decades, cellist and producer Roman Borys has distinguished himself as one of Canada's leading artistic voices. He and other members of Gryphon Trio, violinist Annalee Patipatanakoon and pianist Jamie Parker have released 22 acclaimed recordings, toured internationally since 1993, and broken new artistic ground through cross-genre collaborations and multimedia performances.
Honors include eleven nominations and three Juno Awards for Classical Album of the Year. In 2013, Canada Council for the Arts presented Gryphon Trio with the prestigious Walter Carsen Prize for Excellence in the Performing Arts. In 2015, Roman received an Honorary Doctorate from Carleton University in Ottawa as recognition for his contributions to the community.
As Artistic Director of the Ottawa Chamber Music Society, from 2007 to 2020, Roman programmed the Ottawa Chamberfest summer festival; a highly successful fall–winter concert series; and a suite of community engagement and education initiatives.
Deeply committed to classical music outreach and audience development, Roman conceived, developed, and produced Gryphon Trio's flagship educational program, Listen Up! in communities across Canada. Roman lives and works in Toronto.