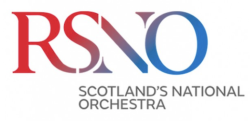 Biography:
The Royal Scottish National Orchestra is one of Europe's leading symphony orchestras. Formed in 1891 as the Scottish Orchestra, the company became the Scottish National Orchestra in 1950, and was awarded Royal Patronage in 1977. Many renowned conductors have contributed to its success, including Sir John Barbirolli, Walter Susskind, Sir Alexander Gibson, Neeme Järvi, Walter Weller, Alexander Lazarev and Stéphane Denève.
The RSNO performs across Scotland and appears regularly at the Edinburgh International Festival, the BBC Proms in London and the St Magnus Festival, Orkney, in addition to international tours.
The Orchestra has a worldwide reputation for the quality of its recordings. Over 200 releases are available, including the complete symphonies of Sibelius (Gibson), Prokofiev (Järvi), Glazunov (Serebrier), Nielsen and Martinů (Thomson), Roussel (Denève) and the major orchestral works of Debussy (Denève).
rsno.org.uk