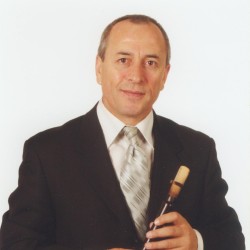 Artist:
Ruben Harutyunyan | clarinet
Biography:
Born in Armenia, Ruben Harutyunyan studied music at Yerevan Music College. Immediately following his graduation from the Clarinet Department there he joined Armenia's prestigious Tatul Altunyan Song and Dance Ensemble as a duduk soloist. During his tenure with the ensemble (1977–2000) he toured across the United States, Europe, Australia, New Zealand, and the Middle East.
After moving to the United States in 2000 Harutyunyan co-founded the critically acclaimed Winds of Passion Quartet, with which he recorded extensively and appeared in numerous concerts as the quartet's lead duduk player. He has also performed at various global music festivals, played and recorded with top international pop musicians, and performed on several film soundtracks.
Harutyunyan has frequently performed live on the Santa Monica (California) National Public Radio member station KCRW and in major US concerts including the KCRW World Festivals of 1999 and 2007 at the Hollywood Bowl (for the latter in the Los Angeles Philharmonic Association's commissioned work Spirit of Armenia); Armenia Unbound: A Musical Journey at the J. Paul Getty Museum; Uniquely Armenian at the Alex Theater; and the 2001 USC World Festival of Sacred Music.
Major film soundtracks, including for Traffic and Kingdom of Heaven, feature Harutyunyan's signature duduk performances.
His recordings with the Winds of Passion Quartet comprise the eponymous Winds of Passion along
with Dance Music; Patriotic Music; Ruben Harutyunyan: Duduk; and Komitas's Divine Liturgy, a groundbreaking rendition performed entirely on duduks. Three of Harutyunyan's recordings (Divine Liturgy among them) were honored with Album of the Year at the 1999, 2004, and 2006 Armenian Music Awards.
In addition to appearing in concerts and recording music, Harutyunyan teaches duduk at a number of music schools in Los Angeles.
Upcoming Concerts:
Ruben Harutyunyan | clarinet has no upcoming tour dates. Please check back soon.