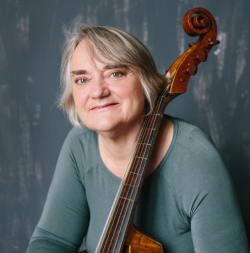 Biography:
Sarah Cunningham is recognized as one of the foremost viola da gambists worldwide. She trained at Harvard University, the Longy School of Music (with Gian Lyman Silbiger), and the Royal Conservatory in The Hague, Netherlands (with Wieland Kuijken). In the 1970s she was deeply influenced by the teaching of the legendary Marleen Montgomery, whose emphasis on breath, awareness, profound listening, and the spiritual power of music remain at the core of Sarah's practice today. Also in the 1970s, she formed the baroque ensemble Musick for the Generall Peace, with violinist Jeanne Lamon and harpsichordist Robert Hill, and the viola da gamba trio Les Filles de Sainte Colombe, with Mary Springfels and Wendy Gillespie.
After moving to London in 1981, she was co-founder, with violinist Monica Huggett and harpsichordist Mitzi Meyerson, of Trio Sonnerie, with whom she recorded much of the important chamber music for violin and viol, and toured on four continents between 1982 and 1997. She was invited by Sir James Galway to collaborate on his CDs of Bach's flute music, and toured with him in Europe and the USA. Her solo CDs were released on ASV and EMI/Virgin Classics, and she has appeared as recitalist from Helsinki to Vancouver. As concerto soloist she has recorded works by Telemann with the Orchestra of the Age of Enlightenment under Monica Huggett. She has performed in Europe, North and South America, Australia, Japan, Turkey, and Russia with numerous groups and conductors including Jordi Savall, Fretwork, Phantasm, Simon Rattle, Ton Koopman, John Eliot Gardiner, Gustav Leonhardt, and others.
In 1999 she moved to the west coast of Ireland, where she founded and directed the East Cork Early Music Festival at the invitation of County Cork's music officer Ian MacDonagh.
From 1990–2000 she was Professor of viola da gamba at the Hochschule für Künste in Bremen, Germany. Since returning to the USA in 2009, she has been on the faculty of The Juilliard School's newly created Historical Performance Department; and since fall of 2018 she also teaches at Princeton University. A long-time favorite at the Amherst Early Music Festival, in 2018 she founded a unique annual summer Viol Intensive program co-taught with Italian viol player Paolo Pandolfo, as part of Amherst's Baroque Academy.
In 2016 she completed her BA at Bryn Mawr College, in Interdisciplinary Arts and Performance. As part of this self-created independent major she studied choreography with David Brick and Madeline Cantor, dance with Molly Shanahan, experimental performance at the Headlong Institute, conceptual art with John Muse, and creative writing with Daniel Torday. She also studied visual art at the Main Line Art Center with abstract painter and pastelist Val Rossman.
Her long-time fascination with improvisation has led to collaborations with dancers Tara Brandel and Leah Stein, percussionist Kyle Struve, and poet Katherine Cartwright, as well as with other poets and storytellers in the USA and abroad.