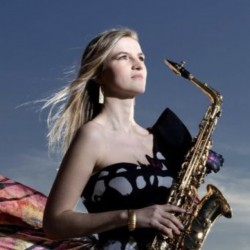 Biography:
"Then Valentine Michaud's hour came – and we got down to business"
– Peter Hagmann (Lucerne Festival 2022)
"the young French saxophonist, determined to expand the horizons of her instrument, worked hard to get the most out of a work written with great skill … Widely applauded, both for her virtuosity and self-confidence on stage"
– Luis Gago (Lucerne Festival 2022)

Valentine Michaud is a saxophonist of extraordinary depth and versatility, quickly building a reputation as a musician whose innovative and virtuosic performances make her an advocate for the saxophone and arts alike.
A recipient of numerous awards, she won the prestigious Credit Suisse Young Artist Award in 2020. First saxophonist to perform as a soloist with the Vienna Philharmonic, under the baton of Esa-Pekka Salonen, she is a frequent guest of orchestras such as the Danish National Symphony Orchestra, the Orchestre de la Suisse Romande, the Philharmonie Zuidnederland and the Moscow Philharmonic.
Passionate about promoting transdisciplinarity, Valentine is a founding member of the SIBJA Art collective with her brother Emmanuel Michaud, a group that devises performances merging painters, dancers and musicians, such as the Waiting for Amon trilogy and the short film Both: Le Dialogue de l'Ombre Double.
With a drive to expand her instrument's repertoire, Valentine regularly performs with Akvilė Šileikaitė as AKMI Duo. Avid champions of new music, they were awarded first prize in the Orpheus Swiss Chamber Music Competition, second prize in the Salieri-Zinetti Chamber
Music Competition and the Swiss Ambassador Award. Valentine also performs with her brother Gabriel Michaud, percussionist.
Born in Paris in 1993, Valentine studied saxophone and piano in Nantes before moving to Lausanne to study at the Haute École de Musique and the Sorbonne University. She completed her studies at the Zurich University of the Arts and currently teaches at the Conservatoire Populaire de Musique de Genève. Valentine is a Henri Selmer Artist.