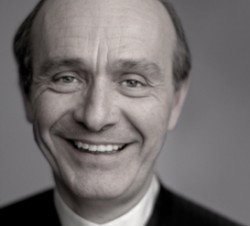 Biography:
A native of Budapest, Gábor Takács-Nagy began to study the violin at the age of eight. As a student at the Franz Liszt Academy, he won First Prize in 1979 in the Jeno Hubay Violin Competition, and later pursued studies with Nathan Milstein. From 1975 to 1992, he was founding member and leader of the acclaimed Takács Quartet performing with legendary artists such as Lord Menuhin, Sir Georg Solti, Isaac Stern, Mstislav Rostropovitch, Paul Tortelier,
Gidon Kremer and Andras Schiff and was regularly invited by Sviatoslav Richter to his festivals.
In 1996, he founded the Takács Piano Trio with whom he made world-premiere recordings of works by Hungarian composers Franz Liszt, Lászlo Lajtha and Sandor Veress.
Gábor Takács-Nagy is considered one the most authentic exponents of Hungarian music, and in particular, that of Béla Bartók. In 1998 he founded the Mikrokosmos string quartet with compatriots Zoltan Tuska, Sandor Papp and
Miklos Perényi, recording in 2008 the complete cycle of Bartók's String Quartets, for which they were awarded the 'Excellencia' prize by Pizzicato Magazine.
In 2002, following in a long-line of Hungarian musical tradition, Gábor Takács-Nagy turned to conducting. In 2005 he created his own string ensemble, the Camerata Bellerive as orchestra-in-residence at the annual Festival de Bellerive in Geneva. In August 2007 he became the Music Director of the Verbier Festival Chamber Orchestra. The VFCO performs
every summer in the Verbier Festival and also in numerous European and Asian cities throughout the year. With the VFCO he regularly collaborates with Martha Argerich, Joshua Bell, Jean-Yves Thibaudet, Vadim Repin and Emmanuel Ax.
Since September 2010 he has been Music Director of the MAV Symphony Orchestra, Budapest and in September 2011 became Music Director of Manchester Camerata. He regularly conducts the Budapest Festival Orchestra where he will shortly take up the position of Principal Guest Conductor.
Gábor Takács-Nagy is also a dedicated and highly sought-after chamber-music teacher and holds the post of Professor of String Quartet at the Geneva Conservatoire.