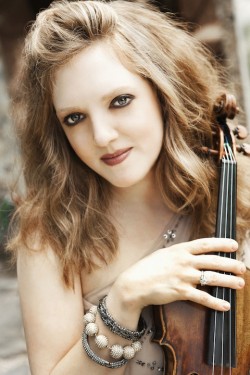 Biography:
In both art and life, violinist Rachel Barton Pine has an extraordinary ability to connect with people. Celebrated as a leading interpreter of great classical works, she plays with passion and conviction across an extensive repertoire. Audiences are thrilled by her dazzling technique, lustrous tone, and infectious joy in music-making.
Pine has appeared as soloist with many of the world's most prestigious ensembles, including the Chicago, Montreal, Baltimore, and Vienna Symphonies; the Philadelphia Orchestra; the Mozarteum, Scottish, and Israel Chamber Orchestras; the Royal Philharmonic; and the Netherlands Radio Kamer Filharmonie. She has worked with such renowned conductors as Charles Dutoit, Zubin Mehta, Erich Leinsdorf, Neeme Järvi and Marin Alsop. She has performed all 24 Paganini Caprices live in Los Angeles, Chicago, New York City, Washington D.C. and at Ravinia.
Pine's prolific discography of 24 recordings includes her performance of the Glazunov Violin Concerto with the Russian National Orchestra, conducted by José Serebrier, which is featured on Glazunov Complete Concertos on Warner Classics. Her Violin Lullabies performed with pianist Matthew Hagle and released on Cedille Records debuted at number one on the Billboard classical chart. Her Brahms and Joachim Violin Concertos was recorded with the Chicago Symphony Orchestra and conductor Carlos Kalmar.
With the publication of The Rachel Barton Pine Collection, a collection of original compositions, arrangements, and cadenzas penned or arranged by Pine, Pine became the only living artist to join musicians including Fritz Kreisler and Jascha Heifetz in Carl Fischer's Masters Collection series. Her Rachel Barton Pine Foundation assists young artists.
Pine performs on the Joseph Guarnerius del Gesu (Cremona 1742), known as the "ex-Bazzini, ex-Soldat," on loan from her patron.
Upcoming Concerts:
Jul 21, 2019
Valley of the Moon Festival
Sonoma, CA, US
Chausson: Concerto in D Major for Violin, Piano and String Quartet, Op. 21
Jul 28, 2019
Credo Summer Music Festival Gala, Credo Festival Orchestra with Matthew Lipman, viola
Chicago, IL, US
Mozart: Sinfonia Concertante for Violin, Viola and Orchestra in E-flat Major, K. 364 (AV2317)
Aug 11, 2019
Copperstown Music Festival
Copperstown, NY, US