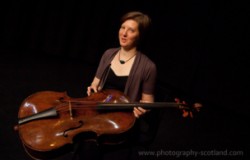 Biography:
Alison McGillivray was born and brought up in Glasgow. She studied cello at the Royal Scottish Academy of Music and Drama with William Conway and at the Royal Academy of Music with Jennifer Ward Clarke. Based in London since 1994, her career has focused on period instrument performance, with her time shared between the cello and the viola da gamba. She played principal cellist with The Academy of Ancient Music for six years, and now holds the same position with The English Concert. She also works with The Early Opera Company and the viol consort Concordia and during 2000, played both instruments in John Eliot Gardiner's Bach Cantata Pilgrimage.
Her recordings include Mozart piano quartets with Sonnerie, Gibbons viol music with Concordia, Scottish baroque music with Concerto Caledonia, Geminiani's Op 5 Cello Sonatas, and CPE Bach's A major cello concerto with The English Concert. For Avie, she has recorded, with flautist Philippa Davies and harpsichordist Maggie Cole, Bach's Flute Sonatas.
Alison is professor of baroque cello at the Royal Scottish Academy of Music and Drama and at the Guildhall School of Music and Drama in London.