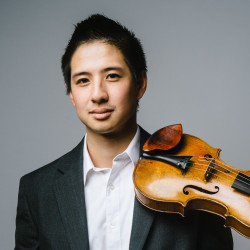 Biography:
A featured artist on NPR's From the Top, violinist Andy Liang is currently in the First Violin Section of the Seattle Symphony. After making his solo debut with the Oregon Symphony at the age of 11, Andy had performed in Carnegie Hall, The Kennedy Center and Jordan Hall by the age of 15. An accomplished violinist in solo, orchestral and chamber music playing, Andy is a founding member of the KASA Quartet, First Prize recipients of the 4th annual Coltman Chamber Music Competition in Austin, Texas, as well as ALKALI, a fiery combination of string players/composers specializing in dynamic original compositions and covers infused with styles ranging from jazz to classical to pop.
Andy received his Artist Diploma from the University of Texas at Austin as part of the Young Professional String Quartet in Residence, where he studied with the Miró Quartet. Andy also received both his bachelor's and master's degrees from the Shepherd School of Music at Rice University, where he studied with Cho-Liang Lin. Outside of music, Andy enjoys playing tennis, video games, and hanging out with his dog, Mango.
Upcoming Concerts:
Andy Liang | violin has no upcoming tour dates. Please check back soon.