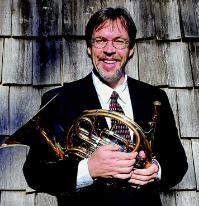 Artist:
Bill Barnewitz | french horn
Biography:
Bill Barnewitz is the principal horn with the Milwaukee Symphony Orchestra, a position he has held since 1995. Previously, Barnewitz served as guest principal horn with the Los Angeles Philharmonic and the symphonies of Atlanta and St. Louis. He also plays principal horn in the Santa Fe Opera orchestra and appears regularly at the Santa Fe Chamber Music Festival.
Growing up in Reno, Nevada, Barnewitz was surrounded by some of the world's great jazz musicians. He was drawn to the French horn after witnessing a London Symphony Orchestra performance of Mahler's Symphony #3, which begins with nine horns in unison. Barnewitz spent two years studying with Fredrick Bergstone at the North Carolina School of the Arts, and later studied at The Juilliard School. Early in his career, he spent ten years with the Utah Symphony, and also played in the busy recording studios of Salt Lake City. To his credit are over 200 motion picture sound tracks, numerous television productions, commercials, sports, news, and entertainment music.
Barnewitz is a faculty member at Northwestern University, and has taught at the University of Wisconsin at Milwaukee and Lawrence University. He is a regular guest clinician at the University of Wisconsin at Madison.