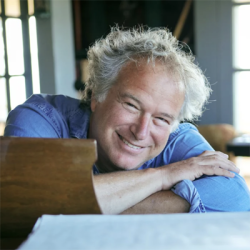 Biography:
Bruce Wolosoff is a pianist and an internationally performed composer of solo, chamber, and orchestral music. Lauded as 'an authentic American voice' by critic Thomas Bohlert for his integration of classical, jazz, blues, and contemporary influences, Wolosoff often composes in response to visual art and through collaborations with leading artists across a variety of disciplines.
Recent projects include a recording of his Lacrymae for cello choir, commissioned for cellist Inbal Segev's 20 for 2020 project on Avie Records, and his Concerto for Cello and Orchestra, featuring Sara Sant'Ambrogio as soloist and the Royal Philharmonic Orchestra under Grzegorz Nowak, which critic Jerry Dubins of Fanfare Magazine hailed as a work of 'compelling beauty', one that 'can be declared an instant masterpiece'.
Wolosoff joined Ms. Sant'Ambrogio in another recording, of a work for cello and piano titled for April, inspired by the charcoal drawings of April Gornik (whose painting Fire and Water features on the cover of the present album). The artist included for April as a digital download in her book April Gornik: Drawings published by FigureGround Press, and the piece is included here under its reworked title The Woods (for April Gornik). In honor of the Roswell Artist-in-Residence Program's 50th anniversary, Wolosoff was commissioned to write The Astronomer's Key, a piano quartet informed by the artwork of Milton Resnick. The Eroica Trio commissioned another work, The Loom, inspired by the watercolors of Eric Fischl. These last three pieces were recorded by the Montage Music Society for the 2019 album More Music Inspired by Visual Art: Music of Bruce Wolosoff. A documentary about the project by Vincent Stenerson titled Creating Music Inspired by Visual Art was released at the same time.
Born in New York City in 1955, Wolosoff played in a variety of rock bands as a teenager while pursuing studies in classical piano performance. During his early career as a freelance classical pianist, Wolosoff's debut recital earned a glowing review from then- New York Times music critic Tim Page, who wrote, 'Mr. Wolosoff is an artist with ideas. He combines keen musical insight with a prismatic sense of tonal color.' Wolosoff has given the world premieres of a number of piano works including compositions by Daron Hagen and Richard Danielpour; he premiered the latter's Piano Concerto No.2 under the baton of JoAnn Falletta. He was Artistic Director and pianist for an 80th-birthday tribute to Olivier Messiaen at Lincoln Center's Alice Tully Hall. Of his recording of Ferruccio Busoni's piano music for Music and Arts Programs of America, Hannah Busoni, the composer's daughter-in-law and head of the Busoni Society in the 1980s, wrote, 'All those who love Busoni's work owe it to themselves to hear Bruce Wolosoff's compelling and beautiful interpretations. They are exemplary.'
Wolosoff earned a B.A. from Bard College, where he studied with Joan Tower, and ran an improvisational group with multi-instrumentalist and composer Elliott Sharp, and an M.M. in Piano Performance from the New England Conservatory. He studied composition and orchestration with Lawrence Widdoes and pursued post-graduate studies at the Dalcroze School of Music with Dr. Hilda Schuster. Wolosoff's principal piano instructor was German Diez, who taught the technique of Claudio Arrau. Other teachers include Evelyne Crochet, Richard Goode, Jorge Bolet, Charlie Banacos, and Jaki Byard.
Bruce Wolosoff lives on Shelter Island with his wife, the artist Margaret Garrett.
Upcoming Concerts:
Bruce Wolosoff | piano, composer has no upcoming tour dates. Please check back soon.