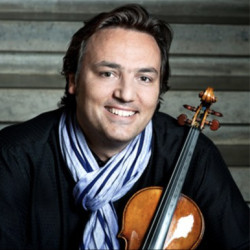 Biography:
Austrian born violinist David Frühwirth has already made quite a name for himself on the international music scene. Numerous press reports have spoken highly of his talents. The internationally regarded journal "The Strad" has stated: "David Frühwirth is one of the most refined young violinists appearing in recital today!" and the magazine Fono Forum has written: "David Frühwirth draws an unbelievable breadth of tone colour and variety of moods from his violin". Maestro Valery Gergiev invited him to perform Mozart's 3rd Violin Concerto and to give the world premiere of the Violin Concerto by Olga Pochikhina with the Mariinsky Orchestra in St Petersburg.
In 2010/2011 David Frühwirth was invited to play at major concert halls such as  the Musikverein Vienna, Wigmore Hall London, Mozarteum Salzburg, Historic Museum Moscow,  Pompidou Centre Paris, Prinzregententheater Munich as well as at the "Zeitkunstfestival" Berlin and the "Toledo Music Festival". Additionally, he gave his debut in Peking with the Chinese National Symphony Orchestra (conductor Gabriel Feltz). David Frühwirth has also performed both as soloist and as chamber musician at many well-known musical centres such as Carnegie Hall and Lincoln Center in New York, Konzerthaus Vienna, Liederhalle Stuttgart, Concertgebouw Amsterdam, Großes Festspielhaus Salzburg, Herkulessaal in Munich and Gewandhaus in Leipzig.
In 2004 he made his Debut at the "Salzburg Festival" and is a regular guest at prestigious Music Festivals including Gstaad Music Festival, Schleswig Holstein Festival, Black Sea Festival, Cheltenham Festival, Richard-Strauss-Tage, Spring Festival, Cappenberg Music festival, Davos Festival, Kuchmo Festival , Prussia Cove – Open Chamber Music Festival.
Orchestras he has worked with include Mariinsky Orchestra, Mozarteum Symphony Orchestra, Yomiuri Symphony Orchestra Tokyo, RSO Berlin, Dortmund and Nürnberger Philharmonic Orch., Vienna Chamber Orchestra, Janacek Philharmonic Orch., Nordwest-Deutsche Philharmonie, Schleswig Holstein – Festival Orchestra, Slovak State Philharmonic Orchestra, New York Symphonic Ensemble, Liszt Chamber Orch. under such conductors as Valery Gergiev, Kozuhiro Koizumi, Alexander Lazarev, Hubert Soudant, Johannes Wildner, Toshiyuki Kamioka, Roger Epple, Michael Hofstetter, Arthur Fagen, Philippe Auguin, Andrew Constantine, Theodor Guschlbauer and others.
He maintains a busy chamber music schedule, and has performed together with Ivry Gitlis, Pinchas Zukerman, Jörg Widmann, Steven Isserlis, Mihaela Ursuleasa, Herbert Schuch, Claudio Bohorquez, Wen-Sinn Yang, Mirjiam Contzen, Alfredo Perl, Henri Sigfridsson, Julius Berger, Claudio Bohórquez, Milana Chernyavska, Ingolf Turban, Gottlieb Wallisch, Adrian Brendel and Lawrence Power. He is also the first violinist of the "Klenze Quartett" based in Munich.
David Frühwirth is prize-winner of several national and international competitions. In 2004 he was the recipient of the "Millennium Award – London"for Lecture Recitals at the Menuhin School of Music and at Oxford University. He gives regular master-classes in Austria, Holland and Italy.
The young violinist is an enthusiastic explorer of unknown repertoire and has restored many forgotten works to the concert stage. This has led to numerous CD recordings with following labels: Capriccio (Wellesz Violin concerto with RSO Berlin), "OEHMS Classics" (Salzburg Festival Debut / Live-Recording),  Hungaraton, Eition Abseits; his Double-Album at AVIE  "Trails of Creativity" received Editors Choice in the Fono Forum Magazine and Gramophone Magazine. He worked extensively with following composers: Jörg Widmann, David Noon, Sarah Nemtsov, Olga Potchikina, Graham Waterhouse and Marcello Nisinmann.
At an early age David Frühwirth enrolled at the Salzburg Mozarteum where he studied with Paul Roczek, Jürgen Geise and the legendary virtuoso Ruggiero Ricci. From 1990 to 1995 he continued his studies in Germany with the famous teacher Zakhar Bron, where, at the age of 20, he received his Artist's-Diploma. For his postgraduate diplomas he was invited by the great Pinchas Zukerman to study with him and Patinca Kopec in New York, where he finished 1998 with honours. He received chamber music coaching from Jaime Laredo, Isidore Cohen (Beaux Arts Trio) und Walter Levin (LaSalle Quartett).