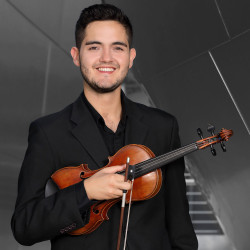 Biography:
Winner of the 2015 Sphinx Competition, violinist Eduardo Rios is the Seattle Symphony's First Assistant Concertmaster. Prior to the appointment, he was a Resident Fellow with the Los Angeles Philharmonic.
Born and raised in Lima, Peru, Eduardo began playing the violin at age ten and made his solo debut at age 14 with the National Symphony Orchestra of Peru and his U.S. debut in 2015 with the Houston Symphony. Additionally, Eduardo has performed as a soloist with the Nashville Symphony, Charlotte Symphony, Seattle Symphony, Orchestra of the Americas, Colburn Orchestra, Chattanooga Symphony and the National Repertory Orchestra.
Eduardo studied violin in Peru with Laszlo Benedek at the National Conservatory and received his Bachelor of Music and Artist Diploma at the Colburn School Conservatory of Music in Los Angeles, where he studied with Robert Lipsett, the Jascha Heifetz Distinguished Violin Chair.
Upcoming Concerts:
Eduardo Rios | violin has no upcoming tour dates. Please check back soon.