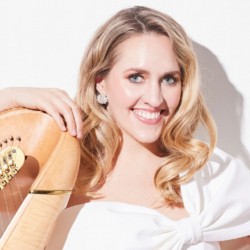 Biography:
Australian-American harpist Emily Granger has firmly established herself in the Australian concert scene, with a busy schedule as a soloist, chamber, and orchestral musician. Emily has performed around the world as Guest Principal Harp with the Chicago, Sydney, Tasmanian and Queensland Symphony Orchestras, Lyric Opera of Chicago, Orchestra Victoria, and Opera Australia Orchestra and given chamber recitals at Carnegie Hall Weill Recital Hall, The Kennedy Center Millennium Stage and Sydney Opera House Utzon Room.
Emily has collaborated with top ensembles and instrumentalists in Australia and the US, including the Sydney Dance Company, Flinders Quartet, Ensemble Offspring, Omega Ensemble, and Nexas Saxophone
Quartet. She was a finalist in the 2021 APRA Art Music Awards for Performance of the Year and a 2022 Finalist in the Freedman Fellowship Awards. In 2023, Emily was appointed as Principal Harp with the Queensland Symphony Orchestra.
Hailing from Kansas City, Missouri, Emily studied harp performance at Indiana University Jacobs School of Music and the Chicago College of the Performing Arts with Susann McDonald and Sarah Bullen.
Emily plays a Lyon & Healy Style 23 harp.