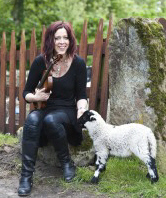 Biography:
Kathryn Tickell's roots are in the North Tyne Valley of Northumberland, where many of her relatives still play traditional music. Her father, Mike Tickell, is an acclaimed performer of the songs of this area. Kathryn took up the Northumbrian smallpipes at the age of nine and by the age of thirteen had won all the traditional open smallpipes competitions.
At the age of sixteen, Kathryn released her first album 'On Kielderside'. Two years later, in 1986, she turned professional, immediately entering a busy touring schedule throughout Britain and abroad, as well as recording her second album 'Borderlands', which was the first recording to include her own compositions.
In 1987 she recorded a sixty-minute TV documentary 'The Long Tradition', for Channel 4 which chronicled her musical development and background, was broadcast in December '87, and released on video in 1989.
Since then Kathryn has recorded eleven more albums, toured extensively throughout the world both solo and with The Kathryn Tickell Band, composed music for two productions by Newcastle's Live Theatre Company, presented a series of programmes for BBC Radio 2, presented a series of TV programmes on music composition for Channel 4 Schools, and recorded with the Penguin Café Orchestra, The Chieftains, Beth Nielsen-Chapman, Jimmy Nail, Linda Thompson, Alan Parsons, Andy Sheppard and many others.
Kathryn has also contributed to four Sting albums, as well as joining him to play live at Newcastle City Hall, Carnegie Hall NY, and also on TV.
In 1997, Kathryn founded the 'Young Musicians Fund'. Managed by The Community Foundation, the fund aims to help young people in the North East region to realise their musical potential. In 2005, she was awarded 'Musician of the Year' at the BBC Radio 2's Folk Awards. October 2006 saw the world premiere of Sir Peter Maxwell Davies' Kettletoft Inn. This work was written for and dedicated to Kathryn "in admiration and respect for her work in making her home county come alive with a reawakened awareness of its own musical heritage, and of inexhaustible developments and transformations of its traditions."
Recent years have seen Kathryn concentrating mostly on her teaching, composition and her work with the Kathryn Tickell Band. She is a part-time lecturer on the Folk and Traditional Music degree course at Newcastle University and is the Artistic Director of Folkestra, the North's acclaimed young folk ensemble.