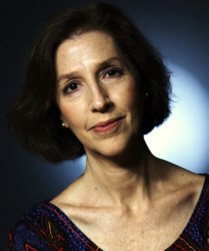 Biography:
Maggie Cole enjoys a richly varied musical life with performances on harpsichord, fortepiano and piano. Born in the USA, she began playing the piano from an early age. A keen interest in early keyboards led her to England where she now makes her home. Maggie's teachers were Jill Severs and Kenneth Gilbert and she is pleased to be part of this "family tree" which began with Wanda Landowska. Best known in Britain through numerous recitals on BBC Radio 3 and appearances at leading festivals, abroad she has performed in venues from Seattle to Moscow, and from Finland to India. In addition to solo recitals – with Bach's 'Goldberg Variations' a speciality, given in London, Paris, Cologne, Basel, Mallorca and Chicago – she frequently performs in duos with partners including Nancy Argenta soprano, Michael Chance counter tenor, Philippa Davies flute, Catherine Mackintosh violin and Steven Isserlis cello. She is also particularly devoted to the Classical chamber music repertoire and explores this with her recently formed "Trio Goya" with Kati Debretzeni violin and Sebastian Comberti cello.
From this century, Maggie plays the concertos by Falla, Poulenc and Gerhard. Gavin Bryars has written 'After Handel's Vesper' for her, and she takes every opportunity to programme new works by Dodgson, Hallgrimsson, Ligeti and Andriessen.
Maggie performs frequently in the USA on fortepiano and harpsichord with the chamber ensemble, "Sarasa". With the group, she takes performances and workshops into areas where classical music is not often heard – facilities for young offenders, hospitals, prisons and geriatric homes. This work has become of increasing interest to her as an amplification of her extensive private teaching practise. Maggie is harpsichord teacher on the annual Caixa "Curso Internacional de Música" in Spain.
Alongside her activities as a player, Maggie is active as a promoter of concerts. Focusing on her immediate neighbourhoods, she has run a 5 year series of charity concerts at London Lighthouse, raising a considerable sum of money for this AIDS/HIV facility. She currently promotes concerts at Bush Hall with the aim of bringing this hall's exceptional charm and acoustic to a growing audience.
Recordings of a recital on various harpsichords on Hyperion and of Scarlatti on Saydisc, have been followed by several on Virgin Classics: a Bach recital, his 'Goldberg Variations' (a top selection in various CD surveys), Soler keyboard sonatas, Boccherini sonatas with Steven Isserlis, and Poulenc's Concert Champjtre with the City of London Sinfonia conducted by Richard Hickox. With Catherine Mackintosh she has recorded the complete Bach sonatas for Chandos, and a solo recital of music by Handel, Scarlatti, Arne, JC Bach and Gavin Bryars has been released on Droffig, and a CD of music for cello and fortepiano with Sebastian Comberti appears on his Cello Classics label. For Avie, Maggie has recorded, with flautist Philippa Davies and cellist Allison McGillivray, Bach's Flute Sonatas