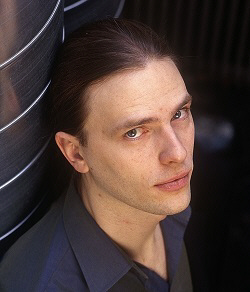 Biography:
Consistently cited for his astonishing power and "sound imagination," Markus Groh has confirmed his place among the finest pianists in the world today. Most recently, Mr. Groh's highly acclaimed New York Philharmonic debut in June 2007 was followed by an electrifying Philadelphia Orchestra subscription debut in November playing Liszt's Concerto No. 1 in E-flat under the direction of Miguel Harth-Bedoya.
In the United States, Mr. Groh has appeared with the symphony orchestras of Baltimore, Colorado, Detroit, Florida, Fort Worth, Jacksonville, Louisville, Milwaukee, New Jersey, San Francisco, Seattle, and Washington, D.C., among others. Outside the U.S., engagements have included the Auckland Philharmonia, Bamberg Symphony, Beijing Symphony, Berlin Symphony, DSO Berlin, Bournemouth Symphony, Budapest Festival Orchestra, Hague Residentie Orkest, Helsinki Philharmonic, London Symphony, Malmö Symphony, MDR Orchestra at the Leipzig Gewandhaus, New Japan Philharmonic, Orchestre de la Suisse Romande, Osaka Philharmonic, St. Petersburg Philharmonic, and the SWR Orchestra (Stuttgart). Among the conductors with whom he has collaborated are Jesus Lopez Cobos, Andreas Delfs, Ivan Fischer, Miguel Harth-Bedoya, Marek Janowski, Neeme Järvi, Fabio Luisi, Kent Nagano, Jonathan Nott, Kwamé Ryan, and Stefan Sanderling.
Recent and upcoming engagements include debuts with the Indianapolis Symphony, Royal Scottish National Orchestra, San Antonio Symphony, and the Warsaw Philharmonic, as well as return appearances with the Florida Orchestra, Jacksonville Symphony, Kansas City Symphony, Louisiana Philharmonic, West Virginia Symphony, and the MDR Orchestra at the Leipzig Gewandhaus. Touring with the Orchestre National Bordeaux Aquitaine under Kwamé Ryan during the spring of 2008, Mr. Groh appeared in Bordeaux and at the Folle Journée Festival in Nantes and Japan.
A spellbinding recitalist, Markus Groh reveals shapes, textures and colors that one seldom hears in live performance. Critics agree: "Groh is a great pianist." [Toronto Star]; "…a superb recital…" [New York Times]; "A new star in the pianistic firmament…" [Neue Zürcher Zeitung]. During the currect season, Mr. Groh has appeared in recital at the Friends of Chamber Music Denver, Friends of Chamber Music Kansas City, Vancouver Recital Society, and at the Frick Collection in New York. Chamber music activities include tours with both Claudio Bohórquez and the Tokyo String Quartet.
Widely acclaimed for his interpretations of Liszt, an all-Liszt CD, including the Totentanz and the B Minor Sonata, was released by AVIE in 2006. Showered with rave reviews, it was also named "Editor's Choice" in Gramophone Magazine, "Recording of the Month" at Musicweb International and received the "Supersonic Award" of Pizzicato Magazine.
A frequent guest at international festivals such as Ruhr, Ludwigsburg, Bad Kissingen, Schwetzingen, Festival Cultural de Mayo, Oslo, and Schubertiade (Austria), Mr. Groh is the founder and artistic director of the Bebersee Festival near Berlin. He has appeared frequently on radio and television in almost every country in Europe as well as in the United States, Canada, Mexico, Japan, China and New Zealand.
Markus Groh was born in January 1970 in southern Germany. He was a student of Professor Konrad Richter in Stuttgart and Professor Hans Leygraf in Berlin and Salzburg. He gained immediate world attention after winning First Prize at the prestigious Queen Elisabeth International Competition in Brussels in 1995, the first German to do so. Other awards include First Prize at the 1990 Artur Schnabel Competition in Berlin.
Mr. Groh divides his time between Berlin and New York.
Upcoming Concerts:
Markus Groh has no upcoming tour dates. Please check back soon.