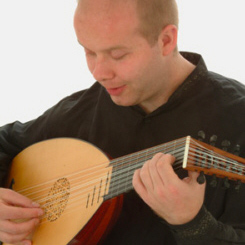 Biography:
Matthew Wadsworth is in great demand as a soloist, continuo player and chamber musician. He has appeared at major festivals in the UK, Europe and North America and can frequently be heard on radio, both in live performance and on disc.
Matthew has recorded for Avie, Deux-Elles, Linn and EMI Records. His CDs, "When Laura Smiles", (featuring music by Phillip Rosseter), "Away Delights" (Robert Johnson) and "14 Silver Strings" (Kapsberger and Piccinini) have received international critical acclaim.
Matthew studied lute with Nigel North at London's Royal Academy of Music, winning the London Student of the Year award in 1997 for his work on the development of Braille lute tablature. He spent a year at the Royal Conservatory in The Hague and now has a post at the Royal Welsh College of Music and Drama in Cardiff. He is also a founder member of Ricordo, which has earned a reputation for its flamboyant performances of seventeenth century music. Wadsworth is an Associate of the Royal Academy of Music and was nominated by The Independent as a "Rising Star for 2005". He is also Musical Ambassador for Britain\'s National Talking Newspapers and Magazines.
Matthew has performed at the Wigmore Hall, Purcell Room, the Georgian Concert Society (Edinburgh), the Metropolitan Museum of Art (New York) and the Lufthansa, Beverley, Spitalfields, Budapest, Vancouver, Mitte-Europa and Innsbruck festivals. He has also worked with The Academy of Ancient Music, English Touring Opera, Birmingham Opera Company, The Netherlands Bach Society, I Fagiolini, The English Cornett and Sackbut Ensemble, The Musicians of the Globe, Arion and The Theatre of Early Music, among others.