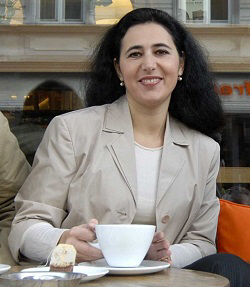 Biography:
Milana Chernyavska was born in Kiev in the Ukraine. At the age of five she took her first piano lessons before entering the School for Gifted Children at the Tchaikovsky Conservatoire two years later. At seven, she performed her first concert in the Great Philharmonic Hall in Kiev and then went on to win the first international chamber music competition Concertino Praga at only twelve years of age.
In 1990 Milana graduated with distinction from the Tchaikovsky Conservatoire, where she studied with Professor Sagaidachny. She then undertook masterclasses with Professors Baschkirov, Bloch and others, and continued her studies at the at the Academy for Music and Theatre in Munich with Professors Hoehenneder and Oppitz.
Her artistic abilities have won her many prizes at both national and international levels, including a Gold Medal at the Vladimir and Regina Horowitz Competition in 1994. Since 1994 Milana has also held the title "Outstanding Artist in the Ukraine".
Since 1998 Milana has appeared as soloist with a number of orchestras, including the Munich Chamber and Ukrainian National Symphonic Orchestras. Additionally, she was recorded at performances with the Bavarian, Hessian, Middle German (MDR) and North German (NDR) Radio; as well as for the BBC, the VRS, Radio France and the National Ukrainian Radio. She has produced chamber music recordings for EMI and Ars Musici. With EMI she also produced a CD which was selected as one of the best CDs of 2001 by the BBC Music Magazine.
She has performed around the world in venues including Wigmore Hall in London, Concertgebouw in Amsterdam, Herkulessaal in Munich, Chatelet in Paris, the Conservatoire in Moscow, the St. Petersburg Philharmonic Hall and the Suntoryhall in Tokyo. Concert tours include most European countries, Canada, the USA and Japan and she has been invited to numerous international festivals. Milana is also much in demand as a chamber musician, working together with Julia Fischer, Elisabeth Batiashwili, Rudens Turku, Daniel Röhn, Adrian Brendel, Daniel Müller-Schott, Susanna Henkel, Nikolas Koeckert, Vogler-Quartett and others.
In addition to her performances she has also taught at the Academy for Music and Theatre in Munich.