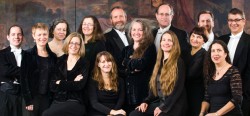 Artist:
Portland Baroque Orchestra
Biography:
Emerging in the early 1980s as a grassroots cooperative of musicians in the Pacific Northwest, the Portland Baroque Orchestra has matured as a polished, professional ensemble within the ranks of the best period-instrument orchestras in North America and Europe. Succeeding Ton Koopman, Monica Huggett has been Portland Baroque's artistic director since 1995. She is considered one of the world's premier baroque violinists, known for her for virtuoso performances, daring programming, and vibrant expressivity, which have also become trademarks of Portland Baroque Orchestra.
The players of Portland Baroque Orchestra are among the most sought-after period specialists in North America. Alongside its performances under the direction of Monica Huggett and Ton Koopman, Portland Baroque has collaborated with a long list of renowned early music specialists, including Rinaldo Alessandrini, Richard Egarr, Reinhard Goebel, Paul Goodwin, Matthew Halls, Andrew Manze, Nicholas McGegan, Marc Minkowski, and Jaap ter Linden.
Since 2009 Portland Baroque has been guest period ensemble and statewide touring ambassador for the Oregon Bach Festival. Portland Baroque Orchestra also collaborates regularly with Portland Opera and has been a featured guest ensemble at festivals and series throughout the Pacific Northwest region, including regular appearances in Seattle, Washington and Victoria and Vancouver, British Columbia.
Portland Baroque Orchestra, featuring Monica Huggett as director and violin soloist, has released recordings of Bach's St. John Passion (Avie, AV2236); Mozart's Sinfonia Concertante and Concertone with Pavlo Beznosiuk (Virgin); Guiliani and Boccherini with guitarist Richard Savino (Koch); and several live recordings on its own label, including Vivaldi's Four Seasons, and Complete Opus 11 Concertos, featuring Monica Huggett as soloist, and Gonzalo X. Ruiz. This 2008 Vivaldi double-CD recording was distinguished by Gramophone magazine as "highly recommended" for "an organic approach that is winning." It is available at www.pbo.org.
Upcoming Concerts:
Portland Baroque Orchestra has no upcoming tour dates. Please check back soon.