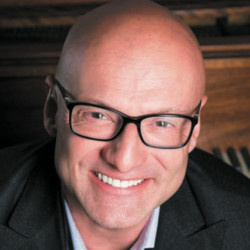 Biography:
Grammy-nominated pianist Robert Koenig's career as a collaborative artist and chamber musician has taken him to many of the world's most important stages including New York's Carnegie Hall and Lincoln Center, Washington's Kennedy Center for the Performing Arts, Boston's Jordan Hall, San Francisco's Herbst Theater, Tokyo's Suntory Hall, Taiwan's National Theater, London's Queen Elizabeth Hall, Paris's Louvre Museum, and Amsterdam's Concertgebouw. Recital appearances have included collaborations with musicians such as Augustin Hadelich, Sarah Chang, Hilary Hahn, Pamela Frank, Kyoko Takezawa, Esther Yoo, Paul Huang, Roberto Díaz, Zuill Bailey, Jennifer Kloetzel, the Miro and St. Lawrence String Quartets, and members of the Tokyo and Juilliard String Quartets. Koenig's partnership with legendary late violinist Aaron Rosand resulted in recital tours, in addition to a recorded legacy of live performances. His recordings include a GRAMMY- nominated CD of William Primrose's Transcriptions for Viola and Piano with violist Roberto Díaz, as well as recordings for Decca, Cedille, Eroica, Ambassador, Centaur, and CRI.
A native of Saskatchewan, Canada, Koenig is a graduate of the Curtis Institute of Music in Philadelphia. He was formerly Professor of Piano and Chamber Music at the University of Kansas in Lawrence. Since 2007, Koenig has been Professor and Head of Collaborative Piano at the University of California Santa Barbara, where he also serves as the Chair of the Music Department. His summers are spent at the Interlochen Summer Arts Camp where he is Coordinator of Collaborative Piano.
Upcoming Concerts:
Robert Koenig | piano has no upcoming tour dates. Please check back soon.