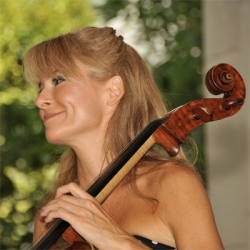 Biography:
Grammy-Award winning American cellist Sara Sant'Ambrogio has performed all over the world, with everyone from Sting to Rudolf Serkin and in every imaginable venue from the Hollywood Bowl to Carnegie Hall. Her passionate playing has thrilled and intrigued audiences from Austin to Amsterdam and from Beijing to Boston, and she has performed in intimate clubs and for crowds of 15,000.
Sant'Ambrogio has recorded six albums on EMI as the cellist of the Eroica Trio, garnering multiple Grammy nominations, and five solo albums on Sebastian Records. The most recent of these, a recording of the music by Elgar, Bruce Wolosoff and Piazzolla with the Royal Philharmonic Orchestra, debuted on Billboard Magazine's Top Ten list, where it stayed for many weeks. Her solo recordings have featured on numerous soundtracks, most recently as the opening track of the HBO documentary A Matter
of Taste. She has appeared on broadcasts for networks including CBS, ABC, PBS and CNN and in publications such as Vanity Fair, Strad, Glamour, Fanfare, Elle, Strings, The Wall Street Journal, The New York Times, USA Today, bon appétit and Travel and Leisure. Her recording with pianist Robert Koenig, The Chopin Collection, was included in The Washington Post's annual list of Notable Recordings.
Gramophone Magazine has described Sara Sant'Ambrogio's interpretations as 'Technically formidable and intensely communicative, these performances grab you by the ears and refuse to let you go!'
Upcoming Concerts:
Sara Sant'Ambrogio has no upcoming tour dates. Please check back soon.