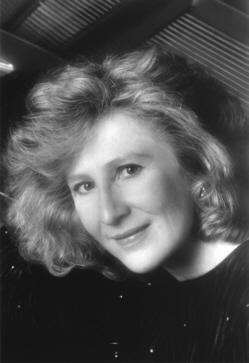 Biography:
Ursula Oppens is one of the few pianists before the public today who has won equal renown as an interpreter of the established repertoire and a champion of contemporary music. Her performances of music old and new are marked by a powerful grasp of the composer's musical intentions and an equally sure command of the keyboard's resources. These qualities have placed her in the ranks of the world's foremost interpreters.
Ms. Oppens has performed with virtually all of the world's major orchestras, including the New York Philharmonic, the Boston Symphony Orchestra, the Los Angeles Philharmonic, the American Composers Orchestra, and the orchestras of Chicago, Cleveland, San Francisco, and Milwaukee. Abroad, she has appeared with such orchestras as the Berlin Symphony, Orchestra de la Suisse Romande, the Deutsche Symphonie, the Scottish BBC and the London Philharmonic Orchestras. She has also played at the Aspen, Tanglewood, Santa Fe, Edinburgh, Bath and Holland Festivals, among others.
An enduring commitment to integrating new music into regular concert life has led Ms. Oppens to commission and premiere any compositions. Among these are works by Anthony Braxton, Elliott Carter, Anthony Davis, John Harbison, Julius Hemphill, Tania Leon, György Ligeti, Witold Lutoslawski, Conlon Nancarrow, Tobias Picker, Frederic Rzewski, Alvin Singleton, Joan Tower, Lois V Vierk, Christian Wolff, Amnon Wolman, and Charles Wuorinen.
A co-founder of Speculum Musicae, Ms. Oppens has recorded extensively, and has received two Grammy nominations.
Throughout her career Ms. Oppens has played at many of the world's major festivals, including those in Aspen, Tanglewood, Santa Fe, Ojai, Music Academy of the West, Edinburgh, Bonn, Cabrillo, Stresa, Bath, Bergamo, Brescia, Japan, and the Holland Festival. She has also been heard in recital and concerto performances at many European music centers, including the South Bank Center and the BBC Broadcasting House in London, the Vienna Radio Orchestra, the Théâtre des Champs-Elysées in Paris, and in Stockholm, Brussels, Geneva, and Bonn.
Ms. Oppens studied piano with her mother, the late Edith Oppens, as well as with Leonard Shure and Guido Agosti, and received her master's degree at The Juilliard School, where she studied with Felix Galimir and Rosina Lhévinne. As an undergraduate at Radcliffe College, she studied English literature and economics. A native New Yorker, Ms. Oppens made her New York debut at Carnegie Recital Hall in 1969 under the auspices of Young Concert Artists. She won first prize in the Busoni International Piano Competition that same year, and was awarded the Diploma d'onore of the Accademia Chigiana in 1970. In 1976 she won an Avery Fisher Career Grant, which led to a performance with the New York Philharmonic. Ms. Oppens can be heard on Angel, Arista, Audivis, BMG, Bridge, CBS Masterworks, CP2, CRI, De Note, Koch International Classics, Music and Arts, Vanguard, New Albion, New World, Nonesuch, and Watt Works. Ms. Oppens, who was appointed John Evans Distinguished Professor of Music at Northwestern University in 1994, divides her time between Evanstown, IL and New York City.