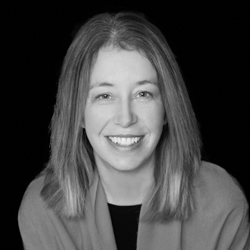 Biography:
Elena Ruehr says of her music 'the idea is that the surface be simple, the structure complex.' She wrote Averno in 2008, as a fellow at Harvard's Radcliffe Institute. For five years she was composer-in-residence with the Boston Modern Orchestra Project, which performed her major orchestral works, as well as the opera Toussaint Before the Spirits, which is recorded with Stephen Salters playing the title role. Her five string quartets have been performed by the Biava, Borromeo, Cypress, Lark, ROCO and Shanghai string quartets, and her CD 'How She Danced', String Quartets of Elena Ruehr, was recorded by the Cypress String Quartet.
Her other recordings include Jane Wang considers the Dragonfly (Albany) and Shimmer (Albany). Ruehr was raised in a small town in Michigan, the daughter of a mathematician and an English professor. Her career as a composer started along with her piano lessons at age four. Her earliest mentor was the Finnish kantele player and composer Melvin Kangas. Dr. Ruehr was a student of William Bolcom at the University of Michigan, and Vincent Persichetti and Bernard Rands at The Juilliard School. Elena Ruehr's oeuvre includes compositions for chamber ensemble, orchestra, chorus, wind ensemble, instrumental solo, opera, dance and silent film. Her work has been described as 'sumptuously scored and full of soaring melodies' (New York Times), and 'unspeakably gorgeous' (Gramophone).
Dr. Ruehr has taught at MIT since 1991 and lives in Boston with her husband and daughter.