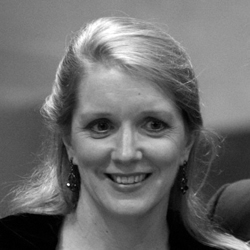 Artist:
Emily Van Evera | soprano
Biography:
Emily Van Evera has appeared as a soloist throughout Europe and her native North America with ensembles including the Taverner Consort, Orchestra of the 18th Century, Philharmonia Baroque Orchestra, the Hilliard Ensemble, London Symphony Orchestra, Tragicomedia, Circa 1500, Musicians of Swanne Alley, Sequentia, Birmingham Contemporary Music Group, Gothic Voices and Academy of St-Martin-in-the-Fields. Conductors for whom she has sung include Andrew Parrott, Frans Brueggen, Joshua Rifkin and Gustav Leonhardt.
Amongst her numerous recordings are award-winning discs of music by Monteverdi, Bach, Vivaldi and Handel with the Taverner Players (EMI, Virgin), by Luigi Rossi with Tragicomedia (Teldec), Cavalli with Concerto Palatino (Harmonia Mundi France) and Elizabethan song and ballads with Musicians of Swanne Alley (Virgin). She sang the role of Dido in a Taverner Players/Sony recording of Purcell\\\'s Dido and Aeneas and featured on The Promise of Ages. Her unaccompanied singing of music by Hildegard of Bingen was used by Angel Records as the basis of their best-selling Vision, awarded Best Classical Crossover CD of 1995 (Billboard).
Stage and television appearances have included leading roles in operas and dramatic works by Monteverdi, Handel, Charpentier and Lully. She has done a live broadcast of songs by Charles Ives and Carl Ruggles for the BBC Proms and of dramatic solo works by Rameau and Hasse for CBC, recitals of lieder by Fanny Mendelssohn and performances of Handel's Messiah for American National Public Radio.