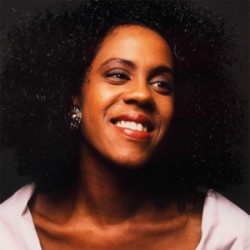 Biography:
When Errolllyn heard from a South African friend the rumour that Nelson Mandela was to be released from Robben Island she sat down and composed In our Lifetime. It was performed at the Commonwealth Institute in March 1990 and was made into the ballet WAITING by Christopher Bruce in 1993. It is recorded on Errollyn's CD The Girl in My Alphabet.
Errollyn Wallen – 'renaissance woman of contemporary British music' (The Observer) – is as respected a singer-songwriter of pop influenced songs as she is a composer of contemporary new music. Communication is at the centre of both worlds: engaging the audience, speaking directly to hearts and minds.
Born in Belize, Errollyn Wallen gave up her training at the Dance Theater of Harlem, New York to study composition at the universities of London and Cambridge. She founded her own Ensemble X, and its motto 'We don't break down barriers in music… we don't see any' reflects her genuine, free-spirited approach and eclectic musicianship. She has been commissioned by outstanding music institutions from the BBC to the Royal Opera House and performed her songs internationally.
Errollyn Wallen's song Daedalus appears alongside songs by Björk, Sting, Elvis Costello and Meredith Monk on the Brodsky Quartet's CD Moodswings. The two solo albums Meet Me at Harold Moores and most recently Errollyn feature her songs in her own voice/piano performance and in collaboration with outstanding jazz artists. Her multi-media show Jordan Town, a modern day song cycle with dance and film, was a sell-out hit at the Edinburgh Festival. The Errollyn Wallen Songbook, published by Edition Peters, comprises twelve of her celebrated songs for voice with piano accompaniment.
Errollyn Wallen's quality as a writer for the human voice becomes also apparent in her more classical vocal works: Are You Worried About the Rising Cost of Funerals is a song cycle for soprano and string quartet commissioned by the Birmingham Contemporary Music Group and recorded on her classical solo album The Girl in My Alphabet which received rave reviews at its release; Fairy Scary comprises song settings of fairy stories for voice and small instrumental ensemble and was commissioned by the Wigmore Hall; the Dunedin Consort commissioned and world-premièred Comfort Me with Apples for soloists and instrumental ensemble with words from The Song of Songs in September 2006.
Other chamber works include a quintet for flute and string quartet All the Blues I See premièred by Emily Beynon and the Brodsky Quartet, Romeo Turn for viola, cello and double bass, Dervish for cello and piano, and a series of piano duets and piano solo pieces, Errollyn Wallen's very own instrument. The Schubert Ensemble commissioned and premièred Music for Tigers, a piano quintet, in October 2006.
The operatic project Another America is an exploration into the black condition, past, present and future: The Royal Opera House and Nitro commissioned Another America: Earth, premièred the opera in November 2003 at the Linbury Theatre and revived the piece in 2005, including a BBC television broadcast; Another America: Fire was commissioned by Push and first seen at Sadler's Wells in September 2004; Another America: Air was commissioned by the Abbotsholme Arts Society and first performed by Nicholas Mulroy and John Reid in 2009.
Errollyn Wallen's opera The Silent Twins, about the love-hate relationship of black twin girls, was commissioned by Almeida Opera and first performed in July 2007. It is based on real live events as depicted in the book by Marjorie Wallace and was composed on a libretto by the acclaimed playwright April de Angelis. Other stage works include the ballet Horseplay which was commissioned and choreographed by Tom Sapsford for the Royal Ballet. Horseplay is also used in a new ballet, Tempest choreographed by James Bailey which was first performed by Leipzig Ballet in April 2007; for this occasion Leipzig Ballet commissioned a one orchestra version of Spirit Symphony to form part of the music for this dance piece. Errollyn Wallen and Scanner were the composers for the score of choreographer Shobana Jeyasingh's Faultline which has been touring internationally since its premiere and is on the GCSE Dance syllabus.
When the Wet Wind Sings, a choral work for 40 voices, was premièred by the Tallis Scholars in 2003 alongside Tallis' Spem in Alium, the work that inspired it. A maritime theme can also be found in Errollyn Wallen's choral commission from BBC Radio 3, Our English Heart, a cantata to mark the 200th anniversary of Trafalgar Day and the death of Admiral Lord Nelson; the piece was first performed in Portsmouth Cathedral on 21 October 2005 by the joint forces of Catherine Bott (soprano), the male voices of the BBC Singers, and the BBC Concert Orchestra, conducted by Stephen Cleobury.
The BBC has also been involved in the commissioning of some of Errollyn Wallen's most popular orchestral works: Colin Currie premièred her Concerto for Percussion and Orchestra for the Young Musician of the Year Award in 1994. This work was selected by the British Council to represent the UK in the opening concert of the Cervantino Festival in Mexico in October 2006 where it received a rapturous reception. Spirit Symphony – Speed-Dating for Two Orchestras was first performed at the final event of the 'Listen up!' Festival at the Royal Festival Hall in November 2004 and won the 2005 British Composer Awards in the BBC Radio 3 Listeners' Award category. The Philharmonia Orchestra conducted by Martyn Brabbins premièred Mighty River, an orchestral work to commemorate the 200th anniversary of the Abolition of Slavery, in February 2007 at Holy Trinity Church, Clapham.
The Orchestra of the Swan commissioned Errollyn Wallen's Photography for string orchestra which was premièred in March 2006 and toured the UK widely. The group continued its association with Errollyn Wallen by appointing her Composer in Association and commissioning a new Cello Concerto premièred by Matthew Sharp in January 2008, as well as a Concerto Grosso for piano, violin, double bass soloists and strings premièred in June 2008. Carbon 12: A Choral Symphony, a 50 minute oratorio about South Wales commissioned by Welsh National Opera for large orchestral and vocal forces, with a libretto by John Binias, was premièred (conducted by Carlo Rizzi) at the Welsh Millennium Centre, Cardiff, in June 2008 with a subsequent tour.
Her film Falling (made with Dan Farberoff ) was broadcast on Australian ABC television and Channel 4 in 2009. Her hit opera for children, Caautionary Tales was commissioned by Opera North for 2011, touring in 2012. YES was the groundbreaking opera commissioned by the Royal Opera House in 2011 with a libretto by Bonnie Greer. Her original music for the 2012 BBC drama One Night won the 2013 FIPA d'Or for Best Original Music in a Television Series. Her works Principia and Spirit in Motion were commissioned for the opening ceremony of the 2012 Paralympic Games and their première was watched by a capacity audience of 80,000 people and broadcast to a billion people around the world. Current projects include a collaboration with David Pountney and a new work for Welsh National Opera to be premiered in 2014.
Errollyn Wallen was awarded an MBE for her services to music in the Queen's birthday honours list in June 2007.