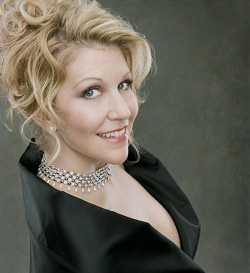 Biography:
"Perhaps the most potent female singer of her generation" according to the New Yorker, 2012 Grammy Award Winner Joyce DiDonato entrances audiences and critics alike across the globe. With a voice "nothing less than 24-carat gold" as proclaimed by The Times, she is among the world's most enchanting performers and the winner of many honours including most recently the 2010 Gramophone Artist of the Year. Opera News magazine states: "The buoyant progress of DiDonato's career has been one of the happiest opera events of the past decade," while critics have called her technique "fearless" and praised performances ranging from "playful eroticism to imploding self-delusion to near-catatonic depression."
DiDonato begins the 2010/11 season with her role debut as Adalgisa in Norma opposite Edita Gruberova for the Salzburg Festival, before returning to the Edinburgh Festival after her thrilling debut in 2009, singing Idamante in a concert performance of Idomeneo, with the Scottish Chamber Orchestra and Sir Roger Norrington. In October 2010 she collects her German Echo Klassik Award in a televised concert in Essen as the "Female Singer of the Year," followed by her debut at the Deutsche Oper, Berlin singing Rosina Il Barbiere, and returns to the Teatro Real, Madrid in December as Octavian Der Rosenkavalier. In the United States she will reprise her critically acclaimed portrayal of Sister Helen in Dead Man Walking at Houston Grand Opera and undertake a recital tour with David Zobel culminating in her Carnegie Hall solo recital debut. The Metropolitan Opera welcomes her back as L'Isolier Le Comte Ory and Komponist Ariadne auf Naxos. She concludes the season in Europe with a tour to Baden-Baden, Paris, London and Valencia singing the title role in Handel's Ariodante with Il complesso barocco, coinciding with the release of the CD on Virgin Classics, followed by a return to the Royal Opera House, Covent Garden with the celebrated Laurent Pelly production of Cendrillon.
DiDonato's 2009/10 season was marked by an array of outstanding debut performances around the world. Following her riveting debut at the Edinburgh Festival, she sang her first Marguérite in Berlioz's Damnation de Faust with the London Symphony Orchestra under Valery Gergiev, before making her company debut with the Los Angeles Opera in Il barbiere di Siviglia, in which she "dominated" and "stole a show that was hard to steal" with her "full, rich, hall-filling sound" (Los Angeles Times). DiDonato also sang Haydn's daunting Scena di Berenice at the BBC Proms with the Orchestra of the Age of Enlightenment under Sir Roger Norrington and returned to the Metropolitan Opera as Rosina Il barbiere di Siviglia. She rang in 2010 with a televised New Year's Eve gala in Baden-Baden, Germany and returned to the Lyric Opera of Chicago as Cherubino Le nozze di Figaro before making another role debut as Elena in Rossini's La donna del lago, first in Geneva and then, with Juan Diego Floréz, at the Opéra National de Paris. A critic of the Financial Times commented on her performance: "it was simply the best singing I've heard in years." The pair reunited in July at Milan's La Scala for their trumpeted collaboration in Il Barbiere di Siviglia.
DiDonato opened Wigmore Hall's 2008/9 season and continued the season with her role debut as Elvira Don Giovanni at the Royal Opera House, Covent Garden. She sang her first Béatrice in Berlioz's Béatrice et Bénédict with Houston Grand Opera, reprising it in Paris with Sir Colin Davis before performing in Mozart's Idomeneo at the Paris Opéra. She sang the world premiere of Peter Lieberson's song cycle The World in Flower with the New York Philharmonic and its new music director, Alan Gilbert, performed again at a Carnegie Hall concert with the MET Orchestra under James Levine and made her house debut at the Vienna State Opera as Rosina. At the end of the season she returned to Covent Garden for Il barbiere di Siviglia, famously breaking her leg during the first performance but completing the series of performances in a wheelchair, much to the delight of the public. This "legendary" event was captured on
DVD by Virgin Classics. Her debut at the Salzburg Festival followed several weeks later, to unanimous critical acclaim. "The mezzo-soprano has become very well known in recent years. And quite deservedly, as the Salzburg audience quickly heard." (Salzburger Nachrichten)
DiDonato has soared to international prominence in operas by Rossini, Handel, and Mozart, as well as in high-profile world premieres. Her signature parts include Rossini's La cenerentola and Il barbiere di Siviglia – her Rosina at the Metropolitan Opera won over audiences in New York and on cinema screens all over the world, and she was called "the best Rosina around" by the London Sunday Times for the portrayal.
Born and educated in Kansas, she was a member of the young artist programs of the San Francisco, Houston Grand, and Santa Fe Opera companies after graduate studies at Philadelphia's Academy of Vocal Arts. After beginning her career in the U.S., DiDonato soon developed a growing and enthusiastic worldwide following in opera, concert and recital. In addition to appearing on the world's major opera stages – in Amsterdam, Barcelona, Chicago, Geneva, London, Milan, Munich, New York, Paris, San Francisco, Tokyo, Vienna and this year, Berlin – she has given recitals and concerts at Wigmore Hall, Amsterdam's Concertgebouw and Carnegie Hall, and with the New York Philharmonic, Cleveland Orchestra, San Francisco Symphony, Orchestre National de Paris, St. Luke's Chamber Orchestra, St. Paul Chamber Orchestra and the London Symphony Orchestra. Ms. DiDonato has had important triumphs at the Rossini Festival in Pesaro and in performances and recordings with Alan Curtis's ensemble, Il complesso barocco and William Christie's Arts Florissants.
Her growing discography has earned accolades far and wide. The Deepest Desire, her first solo disc, was awarded France's Diapason d'or de l'année, an extraordinary honour for a recording of American songs. Gramophone commented about her recent complete opera recording of Handel's Alcina (DG/Archiv Produktion) with DiDonato in the title role: "DiDonato is superb: her Alcina is a complex, feminine creature, vain and vindictive," and about her Handel's Floridante: "Joyce DiDonato's silvery singing is beautiful, stylish, dramatically astute yet unforced." Her extensive discography also includes a disc of Handel duets with soprano Patricia Ciofi, complete recordings of Rossini's La cenerentola, Handel's Radamisto, Berlioz's Benvenuto Cellini and DVDs of Handel's Hercules, La cenerentola and Il barbiere di Siviglia. She can be heard in a survey of Antonio Vivaldi's sacred music, as well as on three solo CDs – The Deepest Desire, ¡Pasión!, and her debut recital from London's Wigmore Hall which was a Gramophone "Editor's Choice". DiDonato has made two recordings as an exclusive artist for EMI's Virgin Classics label: a selection of Rossini arias associated with the composer's muse, the great Isabella Colbran and her album "Furore," surveying a variety of emotional Handel arias with Les Talens Lyriques and Christophe Rousset. At Houston Grand Opera she premiered and recorded the roles of Meg in Mark Adamo's highly acclaimed Little Women, and of Katerina Maslova in Tod Machover's epic Resurrection.
Honours bestowed upon DiDonato also include the Beverly Sills Award from the Metropolitan Opera, Echo Klassics "2010 Female Singer of the Year", the Royal Philharmonic Society's 2005 "Singer of the Year", the Richard Tucker Award, given to a single American singer annually, second place in Plácido Domingo's Operalia, and prizes from the George London Foundation, the ARIA Award Foundation, and the Sullivan Foundation.