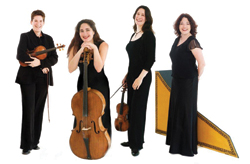 Biography:
The Brook Street Band was founded in 1995 by Baroque cellist Tatty Theo. Tatty read music at The Queen's College, Oxford, and was inspired by a wonderful three years in a suitably Baroque setting, with countless opportunities to explore chamber music and continuo playing, not to mention the city's connection with Handel. In the years following its formation The Brook Street Band rapidly established itself as one of the country's foremost interpreters of Handel's music. The name comes from the street in London's Mayfair where George Frideric Handel lived and composed for most of his working life. The term 'band' was used in the 18th century to describe groups of musicians. The Brook Street Band performs small- to large-scale repertoire ranging from intimate chamber music to concerts with double orchestra and choir. Its various prizes include BBC Radio 3 Young Artists' Forum and the Byrne Award, given by the Handel Institute for Handel scholarship.
The Brook Street Band has performed and taught extensively at prestigious British and European Festivals including the Dartington International Summer School, Barcelona Early Music Festival and Kuhmo Chamber Music Festival. UK concert venues include Wigmore Hall, South Bank Centre and The Maltings, Snape. The Band regularly broadcasts for the BBC.
In addition to performing 18th-century music The Brook Street Band is committed to developing new repertoire. It recently began its collaboration with renowned author Louis de Bernières on an exciting project fusing Louis's newly commissioned prose and Handel's music. The wide-ranging educational work of The Band is supported through The Brook Street Band Trust (Registered Charity No.1122890), focusing in particular on Handel's life and music, linking this to wide areas of the national curriculum (including history, language, social history and sciences) and working with schools across the UK.
The Brook Street Band's recordings for AVIE Records have been universally praised. The Band's debut disc of Handel's 'Oxford Water Music' was selected as Editor's Choice by Gramophone magazine, as was a subsequent CD of 'Trio Sonatas' by J.S. Bach. Classic FM magazine wrote 'In chamber music from this period, you won't find more winning and winsome playing.'
Upcoming Concerts:
Apr 6, 2018
London Handel Festival, St George's, Hanover Square
London
Apr 21, 2018
St. Paul's Church, Bedford St., Covent Garden
London
Jun 4, 2018
CD Launch-The Great Barn, Oxnead
Norfolk, UK
Handel: Violin Sonatas (AV2387)
Jun 5, 2018
CD Launch-Handel House Museum
London, UK
Handel: Violin Sonatas (AV2387)
Jul 7, 2018
Wymondham Abbey
Wymondham, UK